Is Your Inbox Ready For Vacay? Here's How To Set An O.O.O. Email
Out of office replay "on".
We recently wrote a clear guide on how to work while on vacation — how to do it responsibly, efficiently, and seamlessly. What about those of you who want to check ALL THE WAY OUT while you're on vacay? We don't blame you! While your reservations are made and your bags are being packed, don't forget the last piece of the travel puzzle — setting your automatic out of office email reply.
An email goes a long way but it shouldn't go with you on vacation. Choose from the examples below to thread together a completely cohesive O.O.O. email and replace the wording to fit your trip!
#1 GREETING
A. Hi There,
B. Hello,
C. Hi!
D. Aloha from Hawaii!
#2 INTRODUCTION
A. Thanks for your email!
B. Thank you for reaching out.
C. It's great to hear from you.
D. Sorry I missed you.
#3 REASON + DATES
A. I'm out of the office and will be returning on July 17th.
B. I'm out of the office until July 17th, in Hawaii enjoying the surf.
C. I'll be away from my inbox until July 17th and will respond as soon as I can.
D. I'm currently in Hawaii and my inbox didn't join me on this trip but I'll be sure to reply to your message as soon as I return on July 17th.
#4 BACKUP
A. If you need immediate assistance, please contact: Firstname Lastname at name@office.z
B. For urgent issues, please contact our account manager, Firstname Lastname at name@office.z
C. If you need assistance before then, you may reach me at (555) 555-5555.
D. If you're itching for a speedy response, feel free to shoot me a text at (555) 555-5555.
#5 ALTERNATIVES
A. In the meantime, check out CALPAK's blog for life hacks and stories.
B. Are you emailing about which product to purchase? Don't wait. Check them out here.
C. If you're curious about the waves I'm surfing, you can check out what I'm up to here: www.instagram.com
D. To keep you company, here's a cute video compilation of baby sloths.
#6 CLOSER
A. Thank you and have a great day!
B. I look forward to connecting when I'm back.
C. Talk soon,
D. Thanks for stopping by!
#6 GIFS (OPTIONAL)
GIFS can also add a little personality to your O.O.O. auto reply. If they can't get ahold of you, might as well make them smile, right?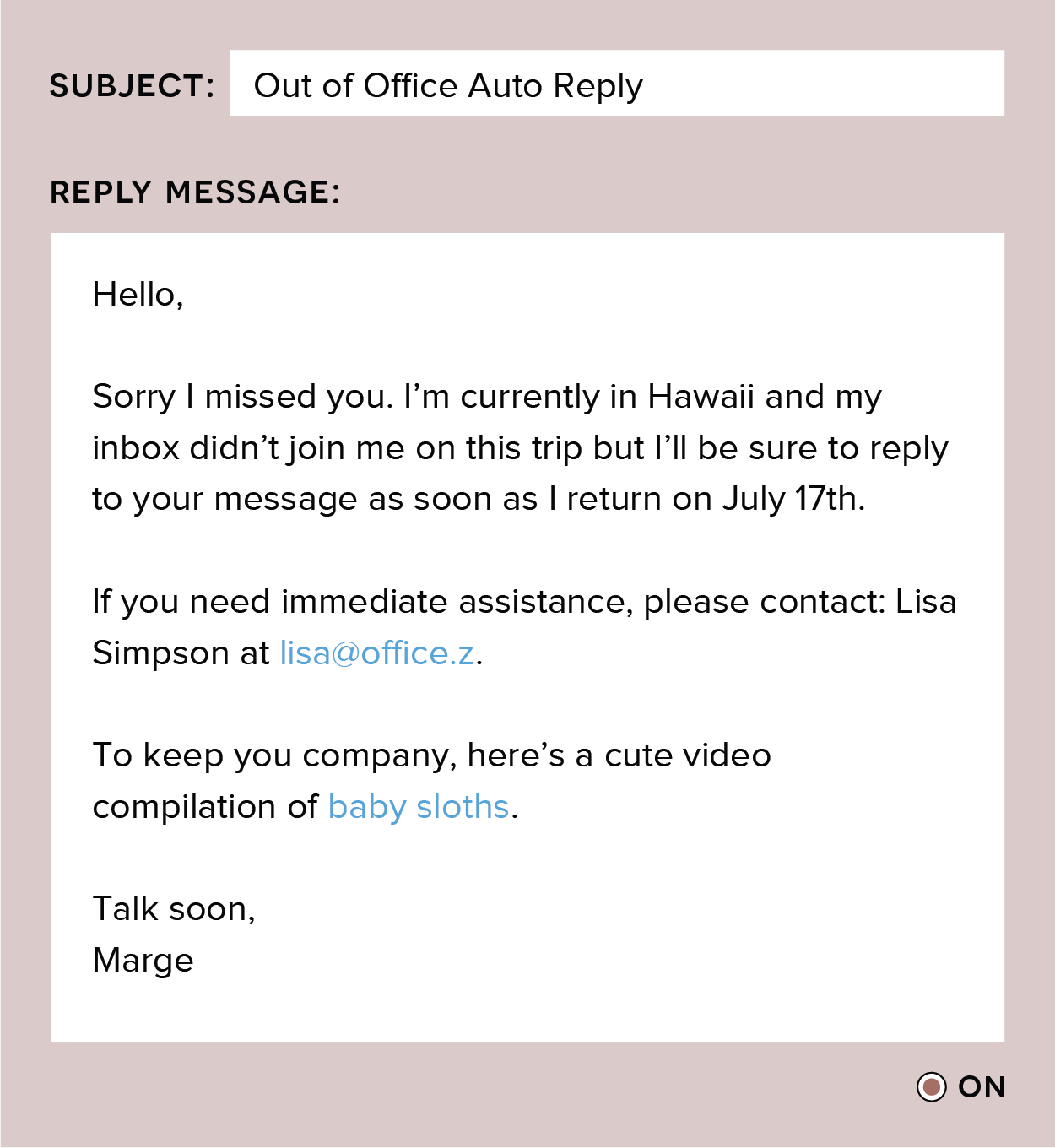 CALPAK Out Of Office email example.