How To Have The Most Comfortable Road Trip You've Ever Had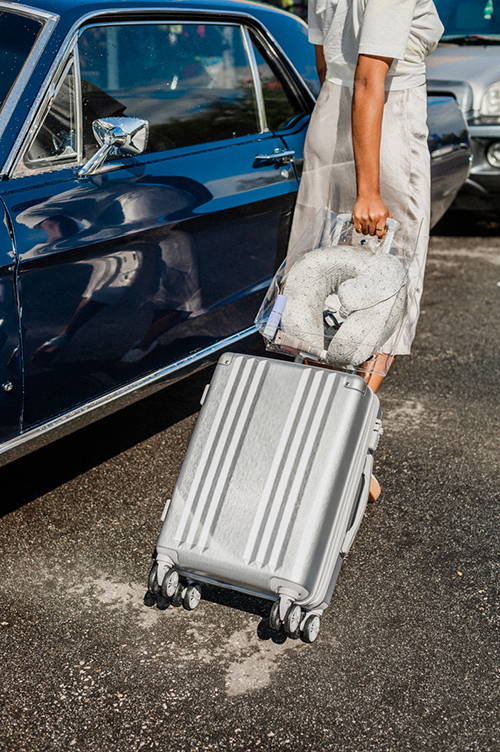 This post might as well be called, "On the road to (fill in the blank)" because you're about to embark on a long-awaited road trip. Whether it's for spring break, a music festival, or a getaway, you're going to want to read further. It's not likely that we LOVE being stuck in a vehicle for more than an hour, so we thought we'd help you ease into your next road trip with a list of essentials you won't regret to pack. Whether you're the designated driver, switching off at every stop, or just a passenger, planning ahead will be the only road side service you'll need.
PREPARATION
First thing's first—do a full diagnosis on your car (or help the driver do so). Go through this easy checklist to get you started:
Check all the fluids in the vehicle and make sure they're topped off: oil, coolant, windshield wash liquid, and brake fluids.

Check the air pressure in your tires, as well as the tread to make sure each tire is not worn out and still has good traction for the road ahead.

Check the car's air filter and cabin filter to ensure performance and efficiency of the vehicle. Also, make sure the vehicle isn't making any funny noises, which may be caused by something unexpected.

Check to make sure all the lights are working: headlights, reverse lights, indicators, tail lights, and hazards.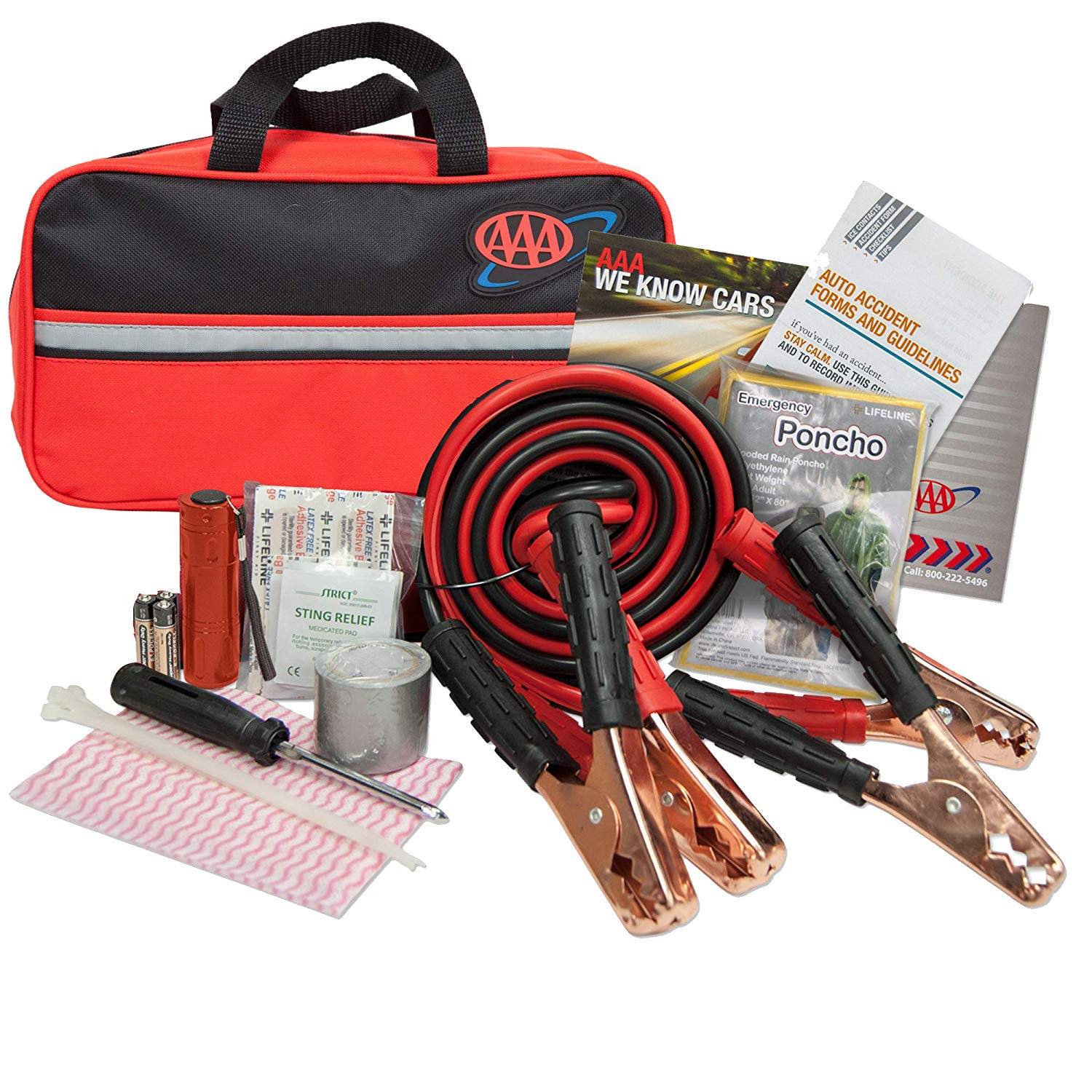 Every car should have a holy grail "just in case" kit, regardless of a road trip or not. You can purchase a pre-made kit by AAA to start (which has 42 items in it) and then you can add some pain killers, bug spray, a Swiss Army knife, and some spare change. Knowing this kit will be with you on the road at all times will make you feel safe and prepared for anything.
Avoid the hassle of taking turns using one phone charger by getting this 5 Port USB device and everyone's electronic issues will be solved. It's also important for everyone's phones to be fully charged in case of emergency.
ENTERTAINMENT
If you and your crew want to take a break from chatting, put on a podcast you can all listen to and enjoy. There's something for everyone depending on what the car ride vibe is
Maybe podcasts aren't your thing and you and your car mates want to sing all the lyrics to Queen, Britney Spears, and Destiny's Child like you're in your own music video. Lucky for you, we created the perfect playlist called, "Backseat Driver". With a list of 31 songs, 2 hours will fly by and you'll be at your destination in no time.
snacks + hydration
Snacks are your best friend on the road so don't forget to pack your favorite granola bars, chips, and whatever will make you excited to dig into. Remember to bring foods that are gentle on your tummy — both appetizing and healthy to prevent nausea. Just remember: lots and lots of water.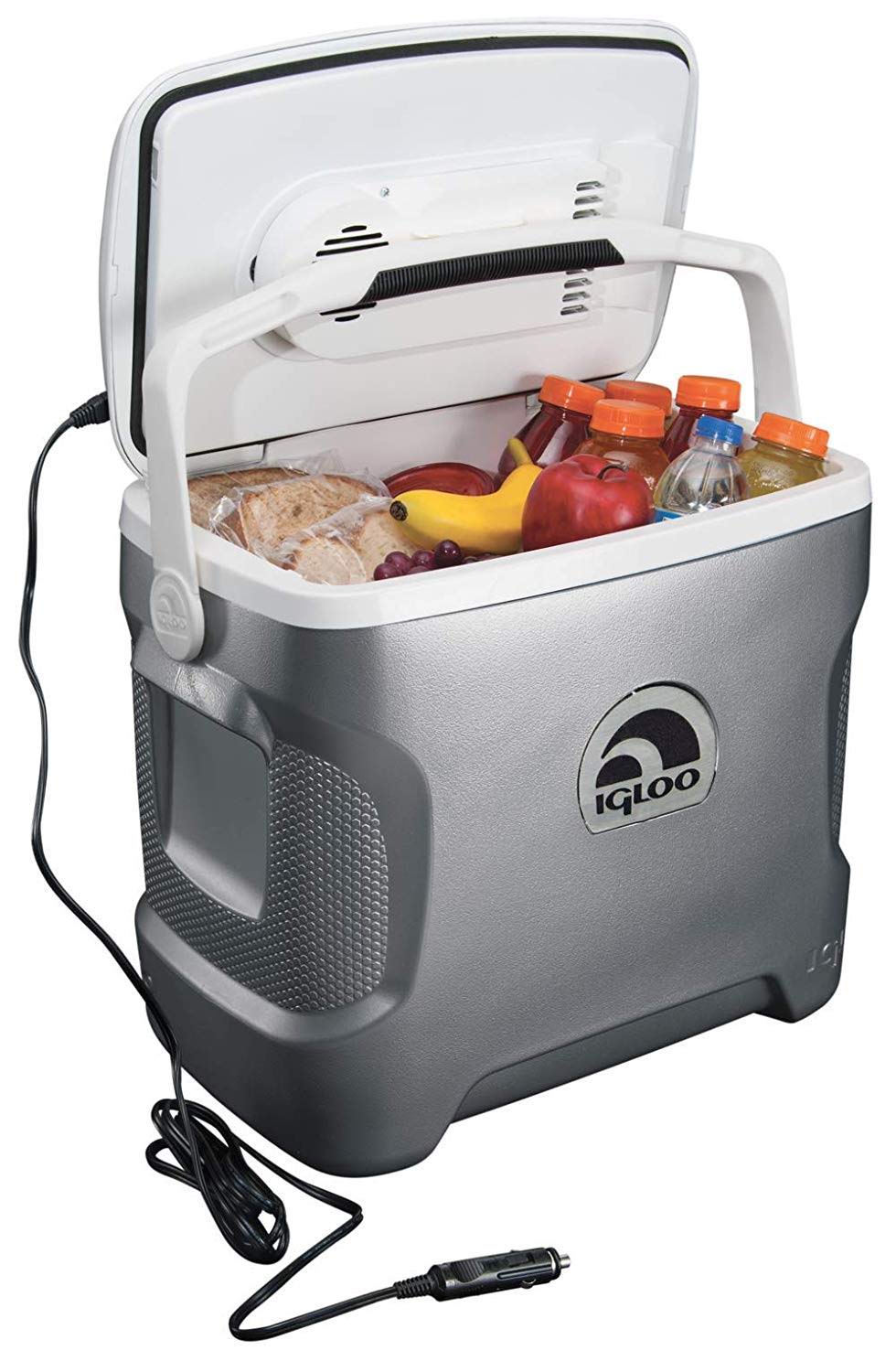 Fill up your refillable water canteens and keep any refreshments cold in the mini cooler of your dreams. The Igloo Iceless Cooler adapts into your car's cigarette lighter and keeps items as cold as 36 F. Also, its' lightweight body is designed to fit between your center console and the dashboard for easy access.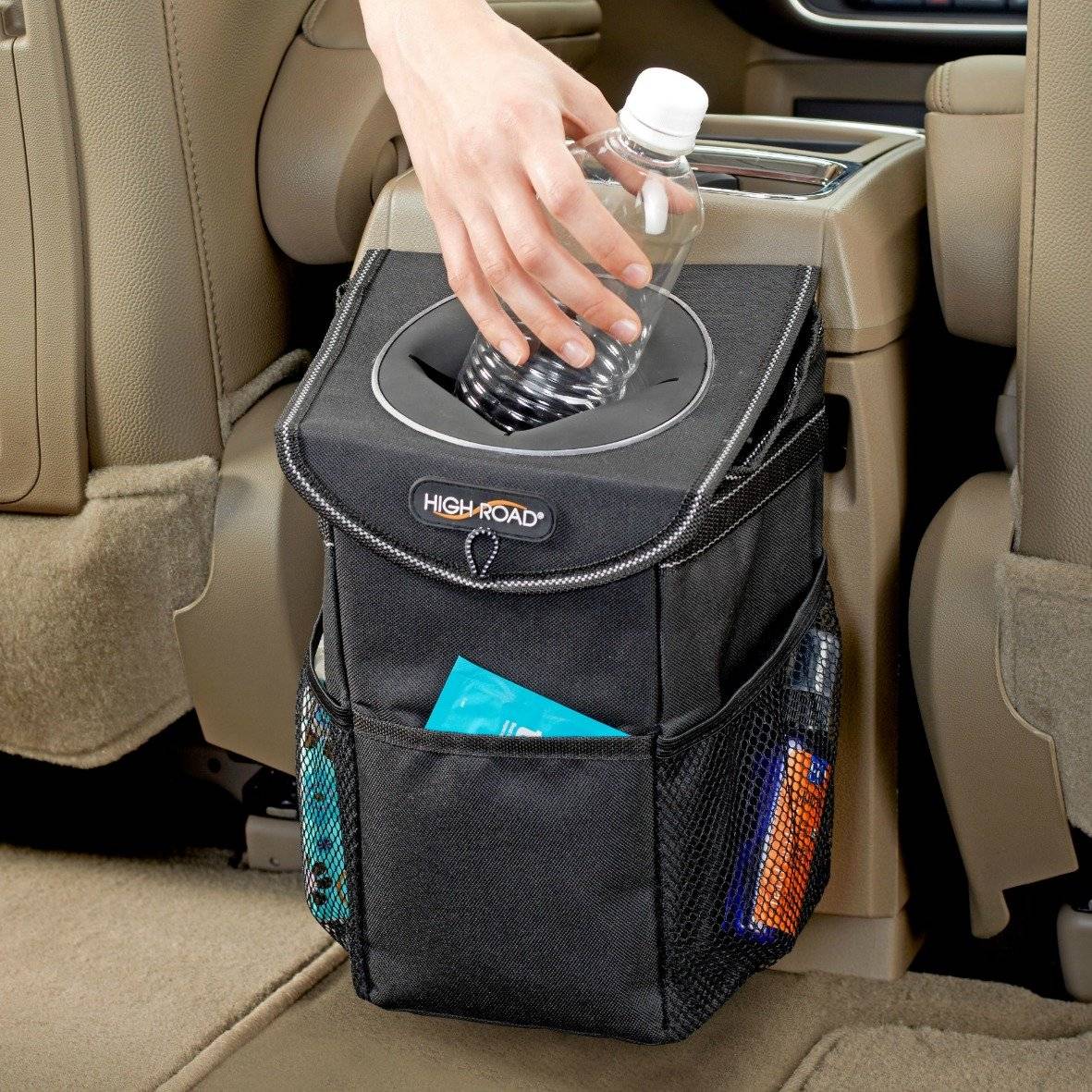 Don't be that person who stuffs their trash in the side pockets of the car door or worse, on the floor of the vehicle. This covered storage is leakproof, helps with odor control, and attaches to the back of your center console. It's compact and even has outside pockets for other small items you rather not be floating around.
COMFORT
Snacks are your best friend on the road so don't forget to pack your favorite granola bars, chips, and whatever will make you excited to dig into. Remember to bring foods that are gentle on your tummy — both appetizing and healthy to prevent nausea. Just remember: lots and lots of water.
It all starts with the perfect neck support while trying to catch some z's in the car. Our Silk Travel Set has grooves in the memory foam so you can adjust the way you use it. The silk eye mask has cushioned blackout padding to protect your eyes. Car, plane, train — you'll never travel without it again.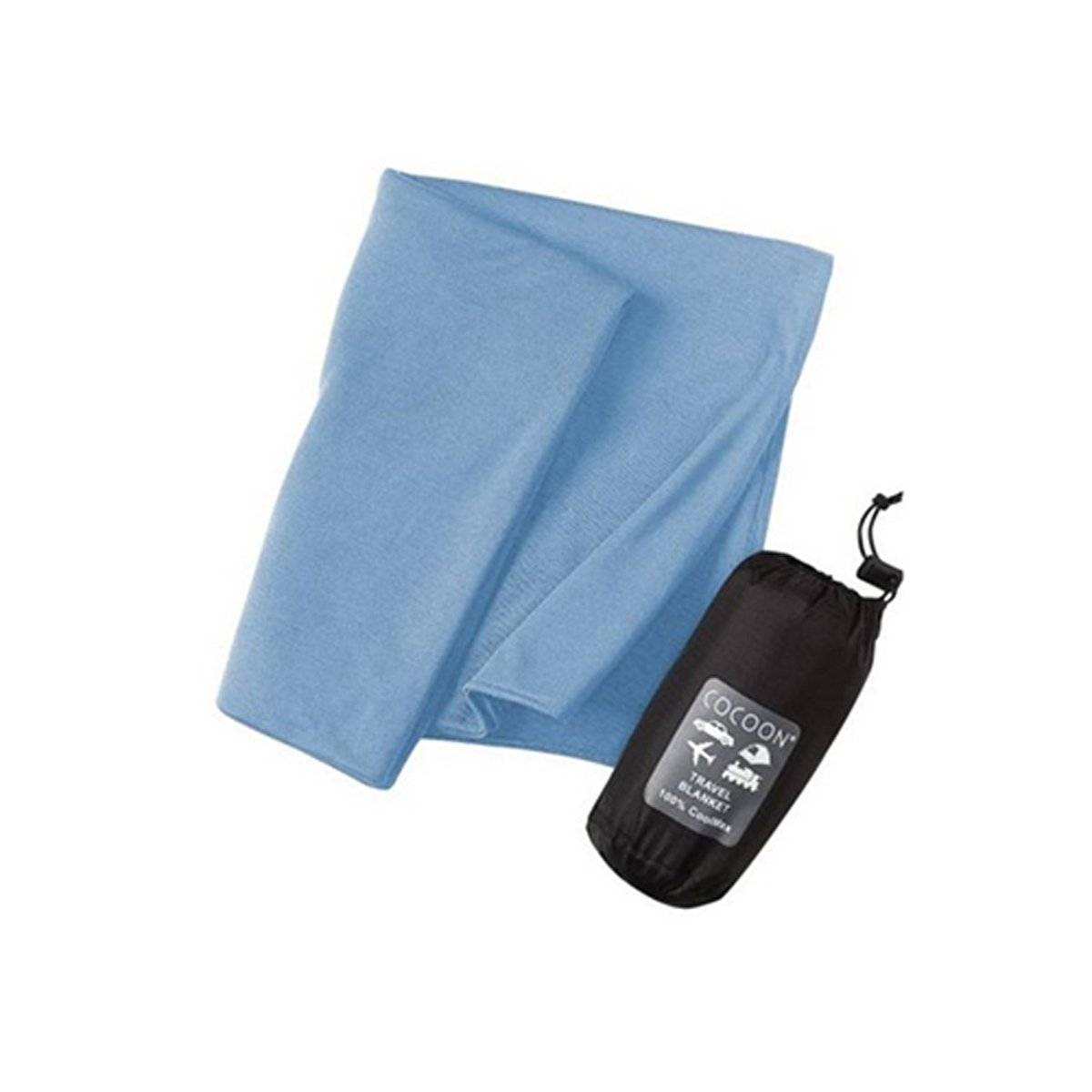 Don't you hate when it's either too cold or too hot in the car? If you're a passenger, the worst part is, you probably don't have any control over the air conditioner or heater. Play it safe and bring your own compact blanket with you. This one is warm, yet breathable and small enough to pack away when it's not in use.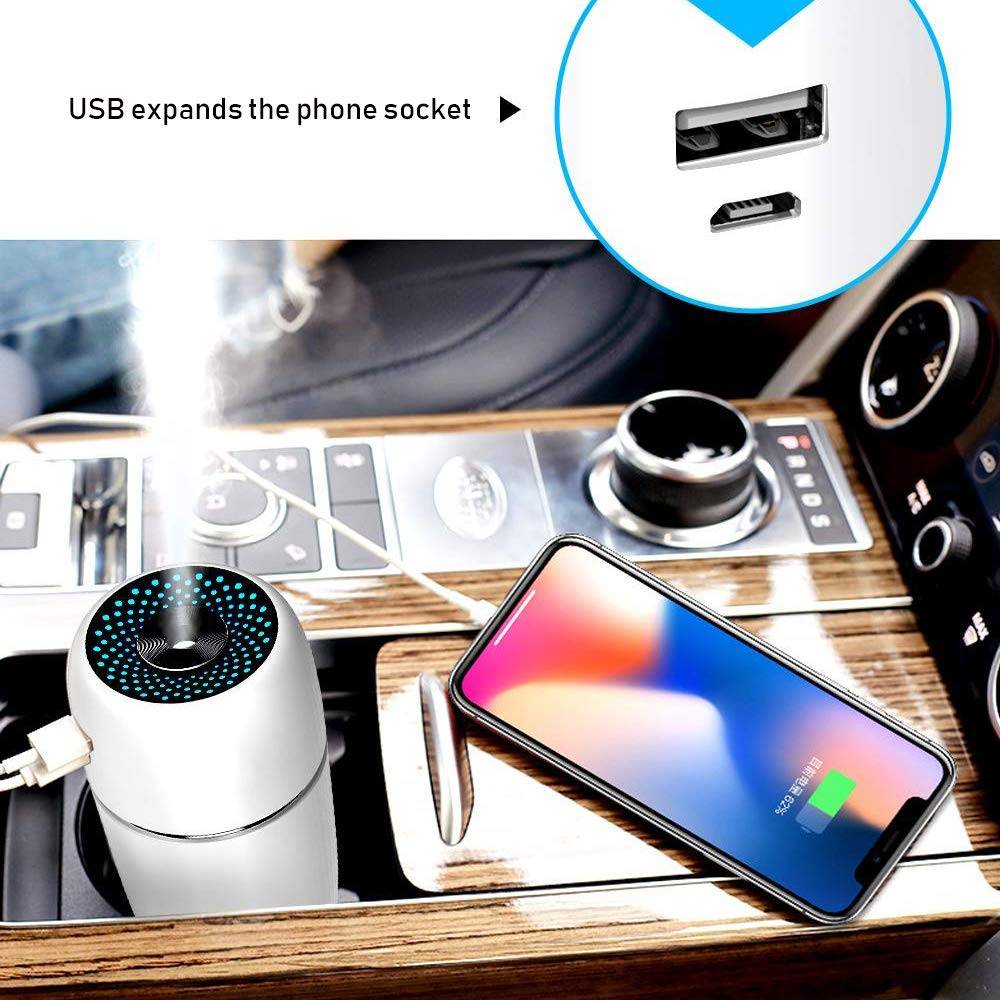 MINI PORTABLE HUMIDIFIER / AIR PURIFIER
Maybe this is a bit excessive but everyone knows what it's like to feel trapped in a car, wishing you had your won air to breathe. Well, a handy little sound-free portable air purifier should do the trick. It fits into your cup holder, plugs in with a USB, and will automatically shut off when the water is low. Fresh air never felt so necessary!
HEALTH
Being on a road trip for hours can give you the same icky feeling as being on a flight but the difference is, bathroom breaks aren't as convenient as they are on an airplane. Plan ahead and bring these travel-sized products that'll make you feel so fresh and so clean.
Some studies show that ginger can effectively prevent motion sickness so pack a few ginger candies with you! If your tolerance is low for a long car ride, you can try over-the-counter medications such as Dramamine or Meclizine, which are most effective 30-60 minutes prior to your journey. Side effects may apply so please consult with your doctor to discuss options that are best for you.
LIGHT BAGGAGE
No matter what the size of the vehicle is, baggage will most likely take up most of the trunk space. In order to have the most compact and efficient travel bags as possible, get the best of the best weekenders CALPAK has to offer.
The Stevyn Duffel Bag is the only duffel bag you'll ever need for overnighters, weekenders, or gym sessions. With interior and exterior pockets PLUS a large bottom compartment, you're able to stay extra organized and well-prepared.
Baye Hat Boxes are both stylish and multi-functional. Its' hardshell, yet durable material will protect not only your hats, but all of your travel essentials and outfits for that Instagram-able moment. While it's available in 3 sizes, you'll be able to choose whichever fits your packing style best.
Maybe your road trip is longer than a weekend getaway, OR maybe you're just an over packer. Either way, CALPAK carry-ons are compact, lightweight, durable and functional. There's a style and color for everyone so take your pick!