How to Choose the Right Travel Bag for Different Types of Trips
Introduction
Attention all adventurers: ready for hassle-free traveling? It all starts with picking the right travel bag! No matter if you're city-hopping, trail-blazing, or globe-trotting, the perfect bag makes your travels smooth and organized. Dive into our comprehensive guide where we unravel the maze of travel bags, pinpointing the ideal features for every scenario, offering tips for making an informed choice, and equipping you with the know-how to balance practicality with a touch of uniqueness. Your seamless travel experience begins here!
Different Types of Bags and Their Features
Backpacks
Features:
Versatility: Backpacks are versatile and suitable for various trips, from hiking and camping to urban explorations.
Comfort: They distribute weight evenly on your shoulders and back, making them comfortable for extended wear.
Multiple Compartments: Many backpacks come with multiple compartments and pockets to help you stay organized.
Compact: They are generally compact and easy to carry on public transportation or while walking.
Best For:
Adventure Travel: Backpacks are ideal for outdoor adventures, such as hiking, trekking, and camping.
Budget Travel: Backpacks are often budget-friendly, making them popular among backpackers and budget-conscious travelers.
Solo Travelers: They are an excellent choice for solo travelers who need to carry all their essentials.
Make everyday an adventure with CALPAK's Luka Backpack. This lightweight, stylish backpack for travel features multiple compartments (even one for your laptop and your shoes), a scratch-resistant exterior, a luggage sleeve, and cool matte colorways. Whether you are looking for an everyday backpack or something to take with you on a trip, Luka is made to go the distance.
Carry-Ons
Features:
Size: Designed to meet airline carry-on size restrictions, they are ideal for avoiding checked baggage fees and quick airport exits.
Wheels: Most carry-ons come with wheels and telescopic handles for easy maneuverability.
Organization: Many carry-ons have dedicated pockets for laptops, toiletries, and other essentials. CALPAK's

Ambeur Carry-On Luggage with Front Pocket

is a lightweight carry-on luggage that features an easy-to-access front pocket just for your laptop. 
The Hue Carry-On with Front pocket is not just any travel carry on. It has a convenient compartment that keeps your laptop secure. With a durable hard sided exterior and utility details on the interior— it's the perfect blend of support and style.
Reliability: Count on your carry-on for consistency on every trip, ensuring your belongings are kept safe and you stay stress-free.
Best For:
Work Trips: Carry-ons are perfect for business travelers who need to keep their work-related items easily accessible.
Short Trips: They are excellent for weekend getaways and short trips where you want to travel light.
Frequent Flyers: Ideal for those who frequently travel by air and prefer to avoid checked luggage.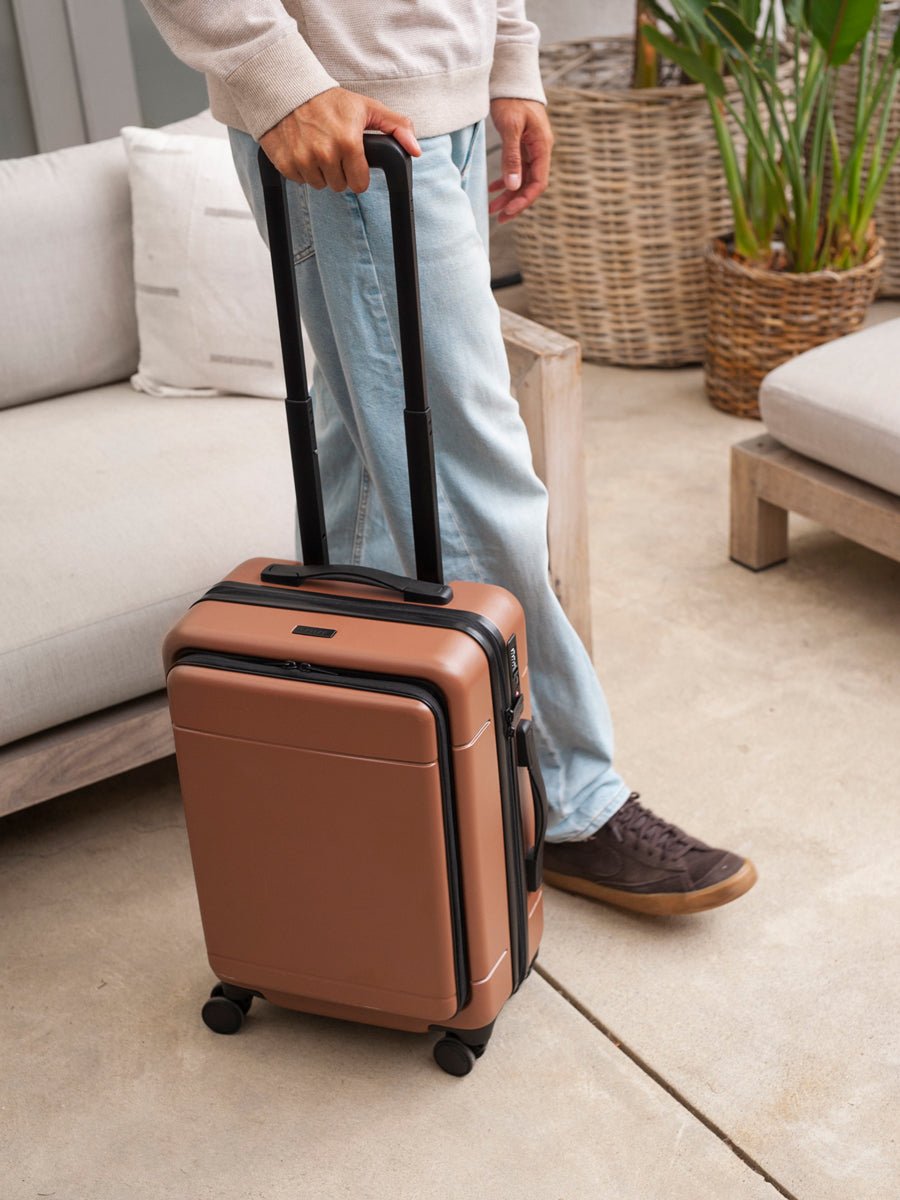 Original price:

$265

Current price:

$212
Final Sale
Not eligible for additional discount
Duffel Bags
Features:
Spacious: Duffel bags offer ample space for clothing, gear, and other essentials.
Durability: Made from sturdy materials, duffel bags can withstand any rough handling in transit.
Versatility: They are suitable for various outings, particularly weekend getaways or short spontaneous trips.
Easy to Store: When not in use, duffel bags can be folded or rolled up for convenient storage.
Best For:
Sports and Outdoor Activities: Duffel bags are favored by athletes and outdoor enthusiasts for carrying sports gear and equipment.
Road Trips: Ideal for road trips where you need to pack a variety of items without worrying about strict size restrictions.
Overnight Stays: Suitable for short trips or overnight stays when a larger suitcase is unnecessary.
Meet the essential large weekend bag you can't live without. CALPAK's Luka Large Duffel Bag is perfect for the gym, as an everyday carry, or as an overnight bag for travel. It also includes a shoe compartment to keep your kicks separate. You'll be using this quality bag again and again.
Original price:

$158

Current price:

$126.40
Final Sale
Not eligible for additional discount