Stevyn Duffel + Packing Cubes: The MOST Organized You'll Ever Be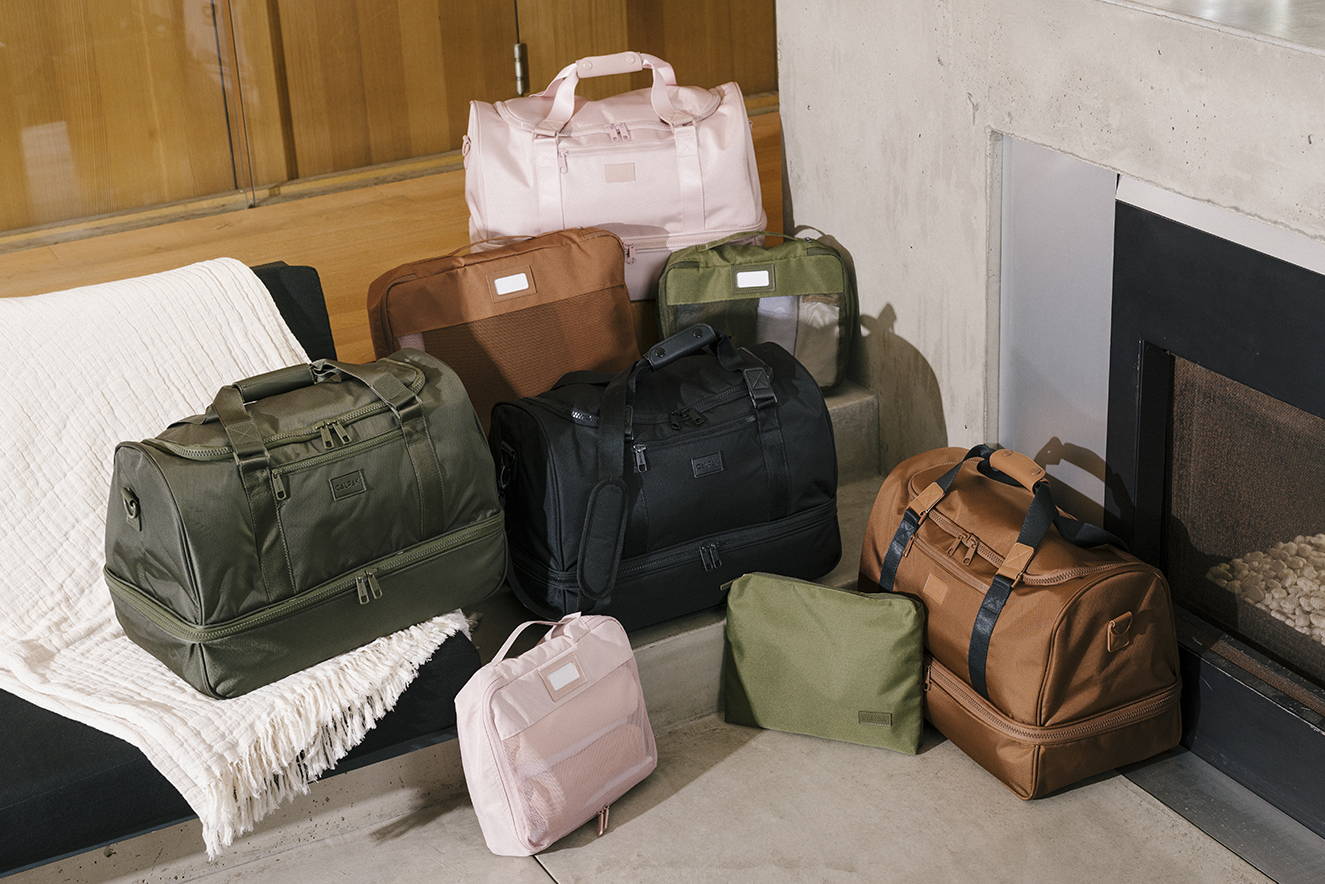 Every year starts with a long list of resolutions, many of which are already forgotten by February 1st. Don't worry; we get it. That's why this year we wanted to help you stick to yours: travel more and get organized. To help you out, we've got our customer-favorite Stevyn Duffel and our must-have Packing Cubes in tons of new, and exciting colorways.
---
If you've never used Packing Cubes before, get ready for your life to change. These lil' cubes making packing and unpacking so. much. easier. Each set comes with 5 pieces, including a water resistant envelope pouch that is perfect for a still-damp swimsuit, toiletries, and so much more. Organize the way you travel and maximize your luggage space with the CALPAK Packing Cube Set.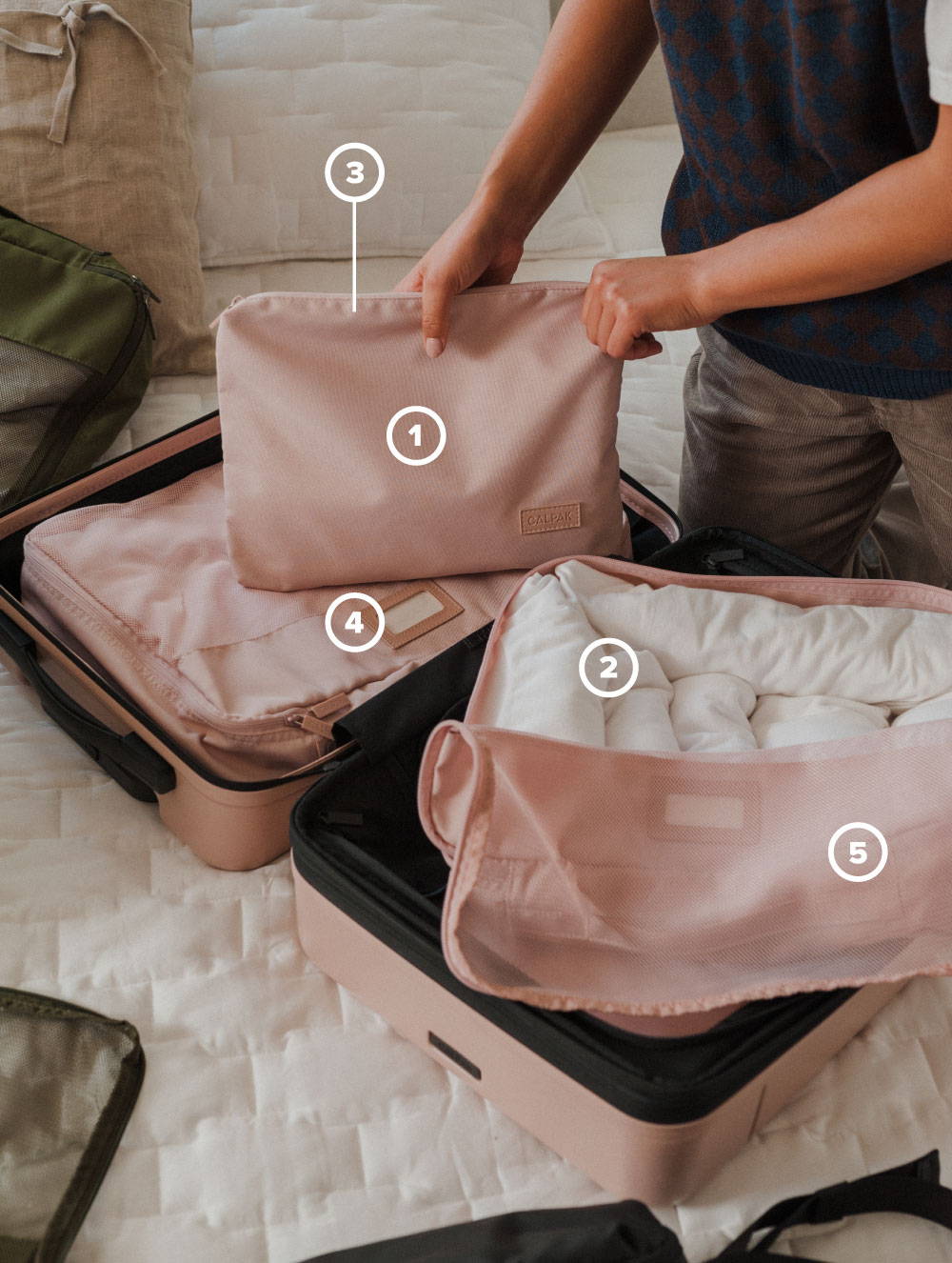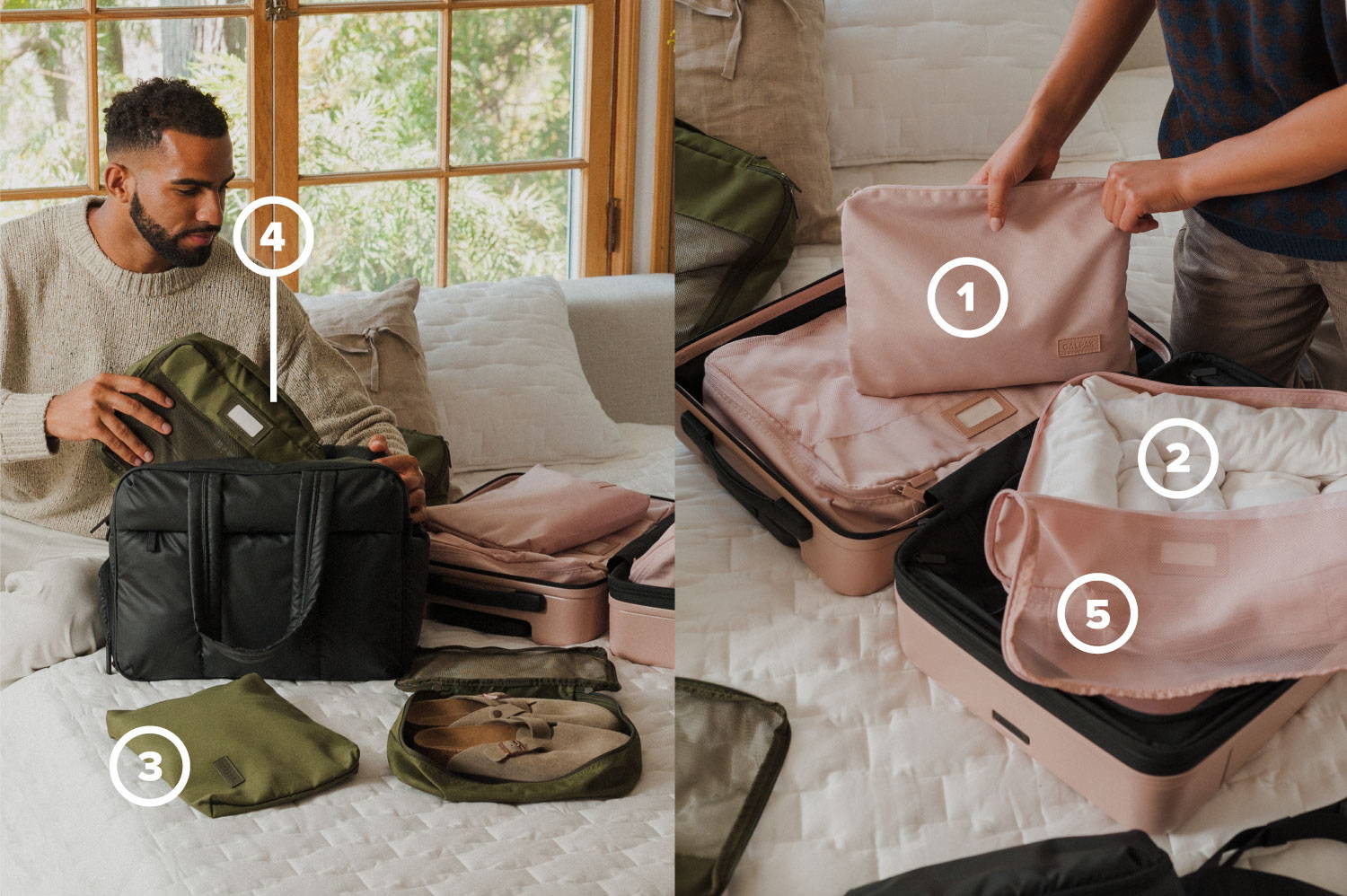 5-Piece Packing Cubes Set
1. The exterior is a durable, lightweight polyester.
2. Each cube has a back, zippered pocket for extra storage.
3. The envelope pouch has a water-resistant lining making it great for your wet bathing suits or cosmetics.
4. The removable label is great for knowing where your jeans, sweaters, and tees are packed away.
5. The breathable mesh top keeps your belongings from getting musty during your travels.
---
Let me introduce you to Stevyn, your new go-to weekender duffel. Let's just say we're a little obsessed with pockets over here at CALPAK, and the Steyvn Duffel is no exception. There's a convenient outer pocket for small items such as your cell phone or passport. The large main compartment has plenty of pockets inside to organize all of your belongings. The separate bottom compartment is great for storing shoes, or keeping quick-access items separate while traveling. Get where you're going with ease with the Stevyn Duffel.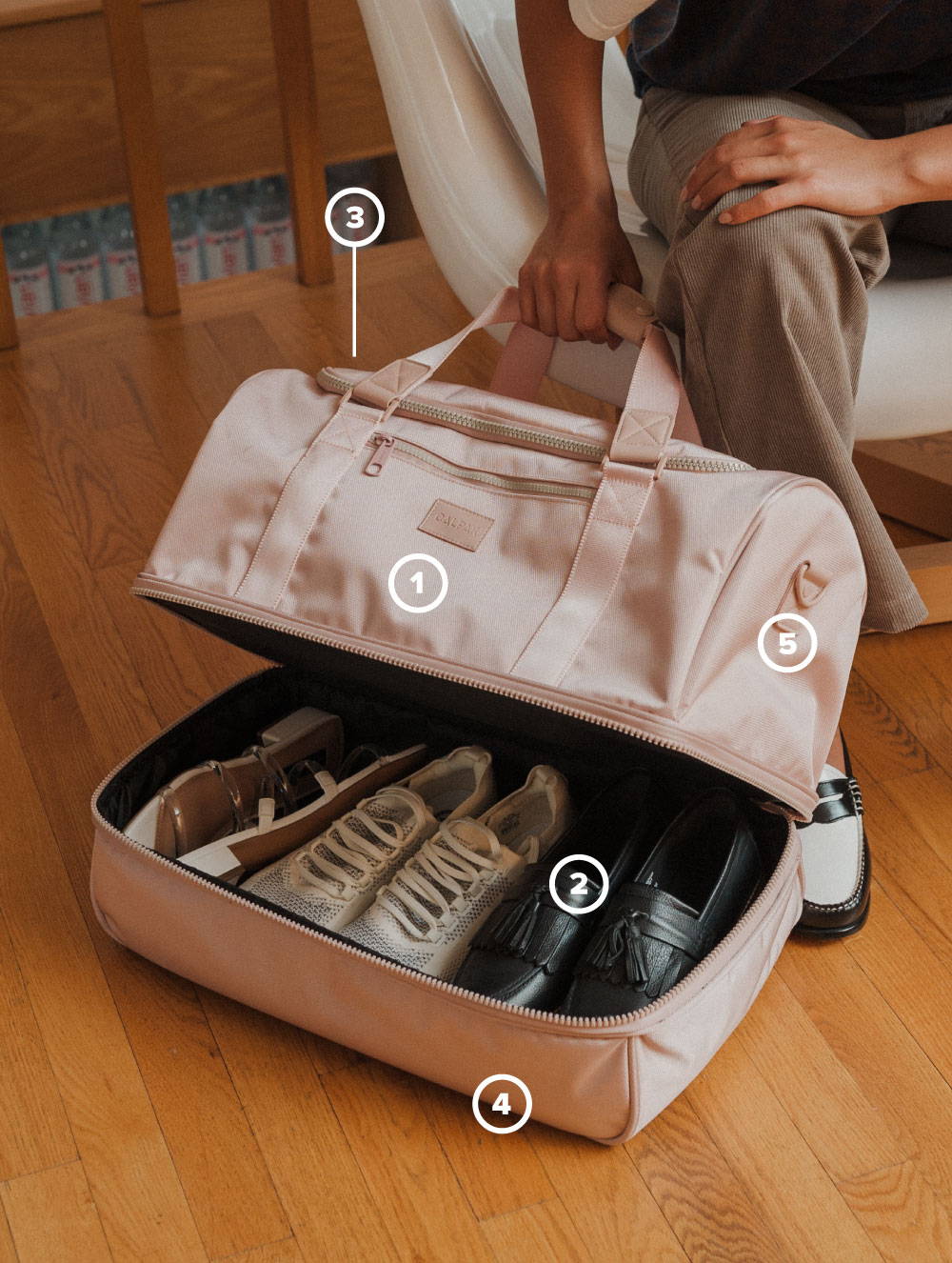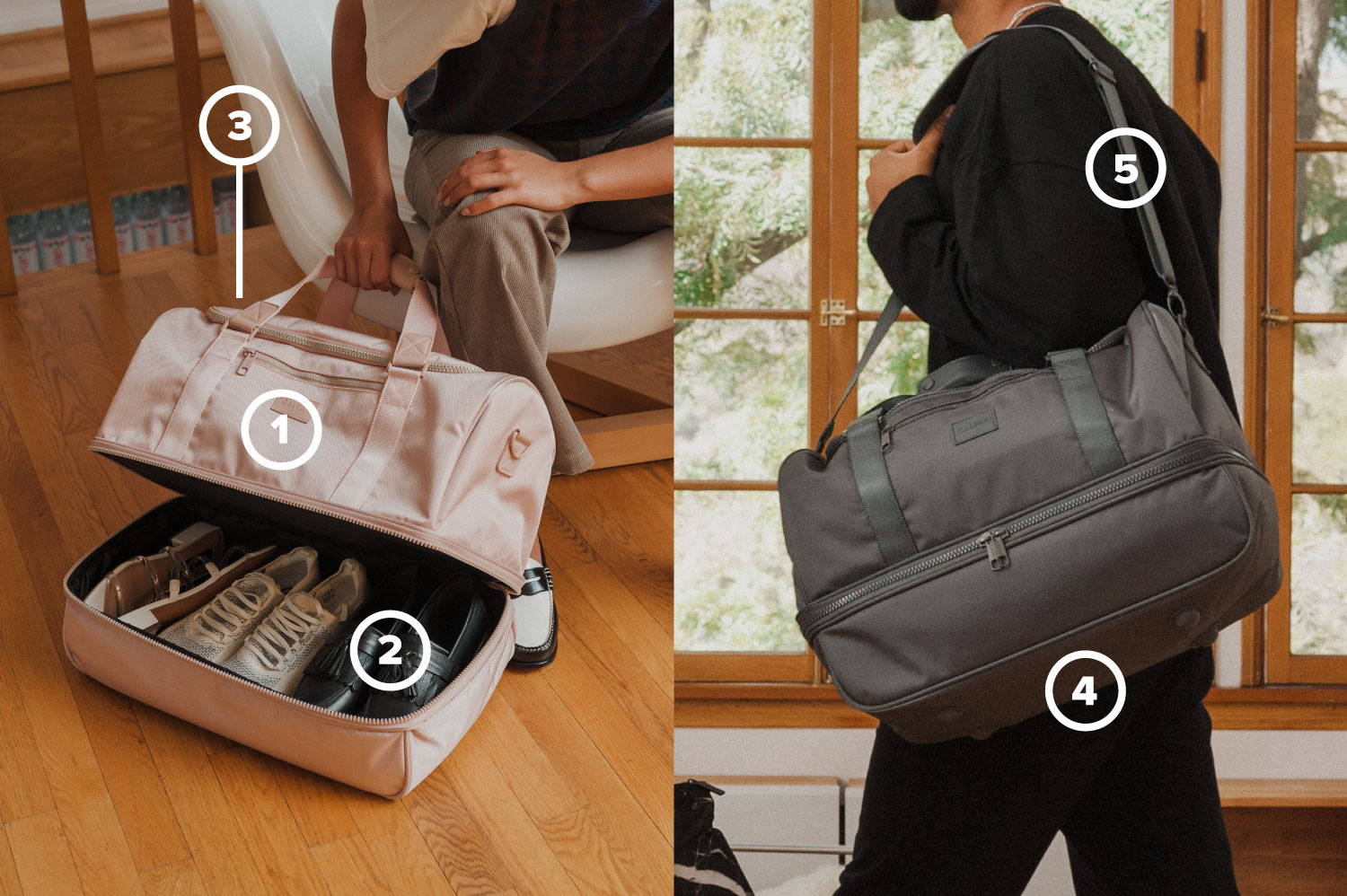 1. The exterior is a durable, lightweight polyester.
2. The bottom compartment is water resistant and great for storing shoes.
3. The main compartment has a large, U-shape opening with multiple interior pockets.
4. There are "feet" on the bottom designed to keep the base from getting dirty.
5. Each Stevyn duffel comes with a removable, adjustable shoulder strap.
---