Reef-Safe Sunscreens For The Summer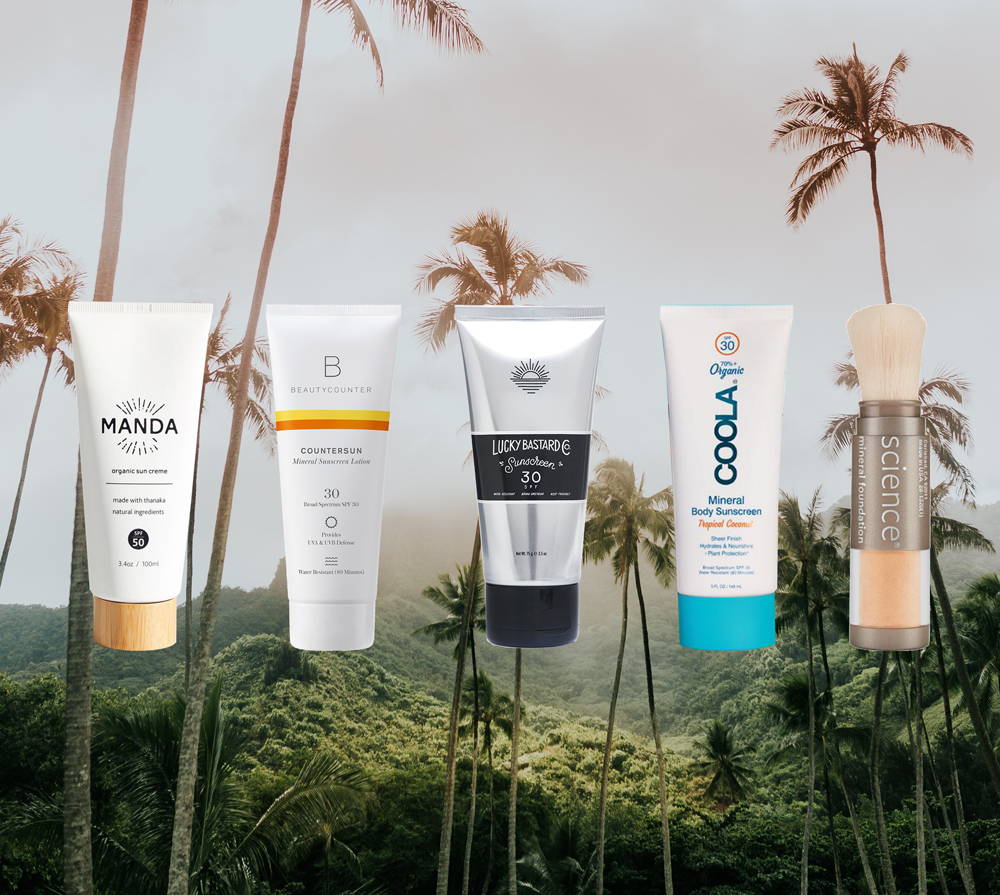 Our favorite reef-friendly sunscreens (from left) Manda Organic Sun Creme SPF 50, Beauty Counter Mineral sunscreen SPF 30, Lucky Bastard Sunscreen Lotion SPF 30, Coola Mineral Body Sunscreen SPF 30, and Colorescience Loose Mineral Foundation Brush SPF 20.
While our vacation plans may be on hold just a little longer, our sun protection is not. The hotter months are here and it's time to stretch our legs! As we leave the comfort of our homes to safely, socially distance ourselves, we can't forget to lather up responsibly.
Did you know that certain sunscreens are so toxic that the chemicals can seep into your bloodstream? Me neither, but more importantly, did you know that your sunscreen can leave a lasting impact on our marine life?
According to a report by Marine Life, a marine conservation NGO, there may be as many as 82,000 chemicals from personal care products that have made their way into our oceans. The biggest pollutant is sunscreen, which is why on January 1st, 2021, Hawaii is banning the sale of coral-harming sunscreen containing the harmful chemicals oxybenzone and octinoxate.
Most people believe our coral life dies because of natural occurrences, such as climate change, but it's actually caused by pollution. These harmful chemicals cause what is known as coral bleaching, which doesn't necessarily kill the coral, but raises the stress and mortality levels. Because our coral reefs produce more than half of the oxygen in our atmosphere and absorbs most of our carbon output, we have to protect it as best we can.
So if you're looking for a sunscreen that's not only good for you but for the waters around you, check out our favorites below!