PACKED UP for the Hue Collection Photoshoot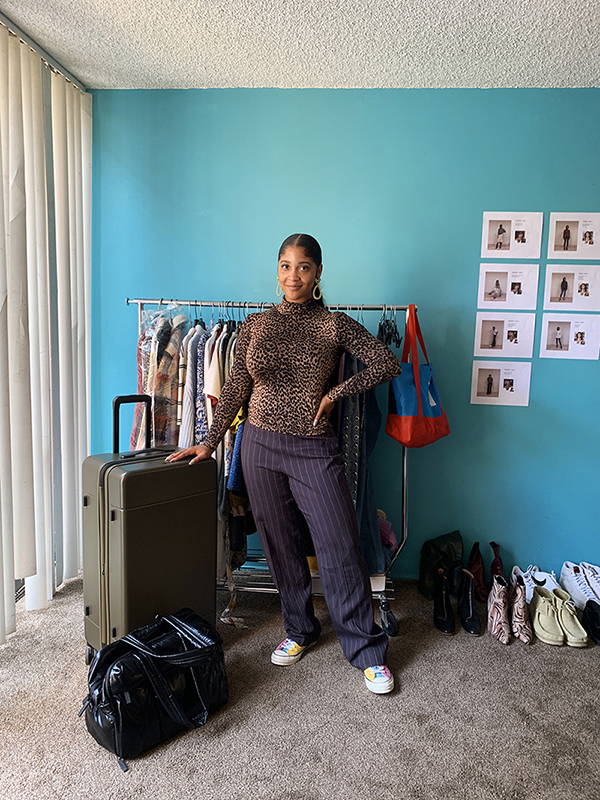 BT Marie undeniably has good taste in style and an eye for the unexpected, looking immaculate together. From her background in interning for celebrity stylists and now making a name for herself with clients like Nike, BT isn't wasting anytime when it comes to igniting her passion for being a full-time wardrobe stylist. She helped make CALPAK's 2019 Holiday Photoshoot come to life by being a huge asset in the visuals of the campaign by adding her own twist to our vision. She invited us over to show us how a real stylist packs and gets ready for a photoshoot; lists, moodboards, and organization are the keys!
Hometown:
Inglewood, CA
Occupation:
Freelance Wardrobe Stylist
Fave CALPAK product:
The Luka Duffel, stylish yet practical, easy go-to piece for the girl that loves sustainable fashion.
Fave travel destinations:
Mexico most definitely. I've been to 5 major cities so far and it never ceases to amaze me. Astonishing culture, incredible food and views you just can't pass up for a quick 2-4 hour flight. I'd go every weekend if I could.
Bucket list destinations:
Africa! Seeing the great pyramids of Giza in Egypt, Giraffe Manor in Nairobi, and the architecture in Marrakech. I could go on and on! I'm a true nature/animal lover. Can't wait to finally make my way!
3 Things I never forget to pack:
Charger/Portable Charger, copies of travel documents, and my wallet
Last meal on Earth:
I'm a real LA girl so tacos are it! Gourmet, homemade, or just good ole street tacos from the the taco truck.
Secret Talent:
I love to reconstruct clothes. When I'm out shopping and I find pieces I like, I always find myself wanting to tweak it and somehow and make it more "me".
Your hype song:
HOT - Young Thug ft. Gunna
Favorite travel memory:
Eating! I loveeee to eat. Food is an essential part of traveling for me. Doing my research to find the best places to eat prior to my arrival — I have a whole list ready. But my go-to is asking the locals for suggestions. Fine dining is great, don't get me wrong, but I prefer the "hole in the wall" spots. That's where the real deal food is.
Everyone should know:
I love to plan trips. Whether it be a solo trip for myself, family, or helping friends plan for an upcoming vacay. The planning that usually stresses most people out before going on a trip — I love. From where to stay, to the best food, and must-see places for each destination. Pre-planning for a trip allows you to maximize your time, although it isn't necessary to stick to a strict itinerary. I have a vacay blog coming soon, be on the lookout!
What kind of packer are you:
I've grown into an organized packer over the years. The more I travel, the better I get at it. It takes time to master and it's definitely saved me a lot of baggage overage fees. Packing efficiently is key, bring the necessary things so you don't find yourself brining the "just in case" options.