Inside Our Luka Belt Bags at CALPAK HQ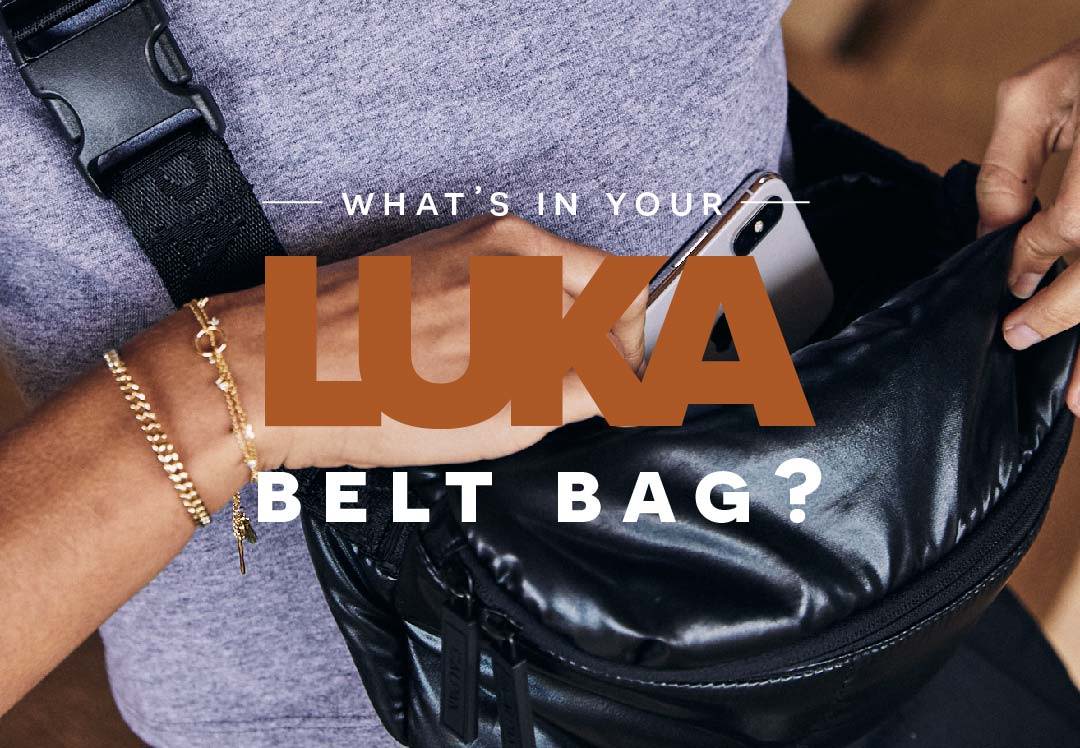 What's in your Luka Belt Bag? We asked the team at CALPAK, and... Turns out we're over-packers. Good thing Luka can handle it. Phone, wallet, keys, lip balm... and so many other things. Find out why we LOVE it: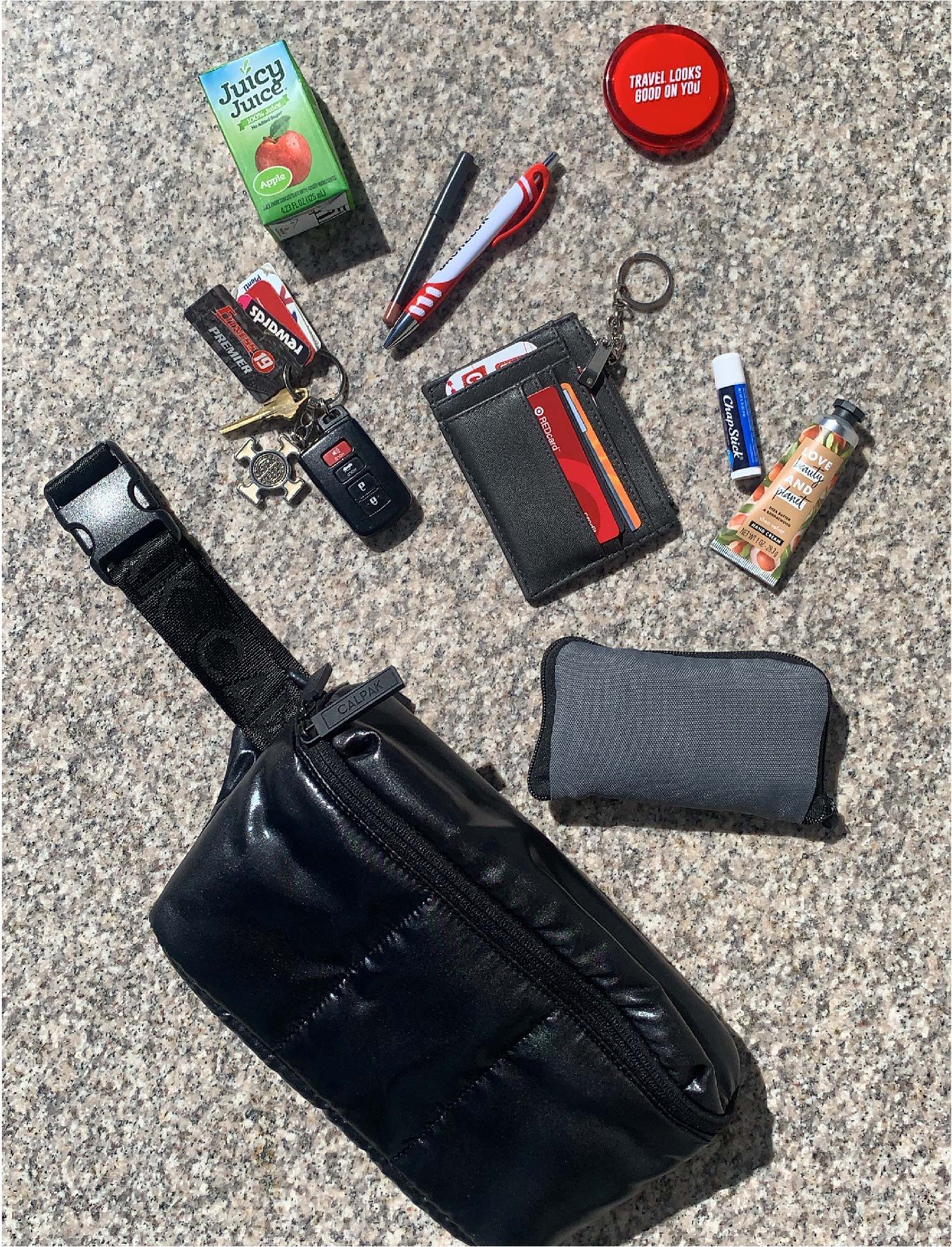 "Luka and I go everywhere together. Literally, I wear this belt bag nonstop! Not only is it so easy to wear, it also instantly makes any outfit. In my Luka bag I carry all my essentials. For starters, my two diabetes must haves: my meter pouch and an apple juice in case I have a low blood sugar LOL (funny cause I'm sure no one else carries this but also not funny cause lows are no bueno!). Not many belt bags can fit my meter, something I absolutely need as a type 1 diabetic. Obviously, Luka's got my back :) I switch from my basic diabetes pouch to my cutesy Society6 All My Diabetes Sh*t pouch (for when I'm feeling spunky of course). Good news, Luka fits both! Remaining items in my belt bag include my wallet, car keys, a mirror for touch ups, and my favorite hand cream from Love Beauty and Planet. Speaking of touch ups, can't forget to mention my two everyday lippie products. The first is my favorite, Holy Grail Chapstick (the blue one, so good!) and the second is the product I feel like I've been searching for all my life. It's the perfect, natural, your lips but better lip liner by Italia in the shade, you guessed, it "Natural". Best two bucks I've ever spent! And finally, I always make sure to carry a pen, which in this case, happens to be my souvenir from my bachelor audition back in July… SPOILER ALERT: I didn't make it on TV LOL. My Luka fits a lot more (trust me) but for now, that's all folks!"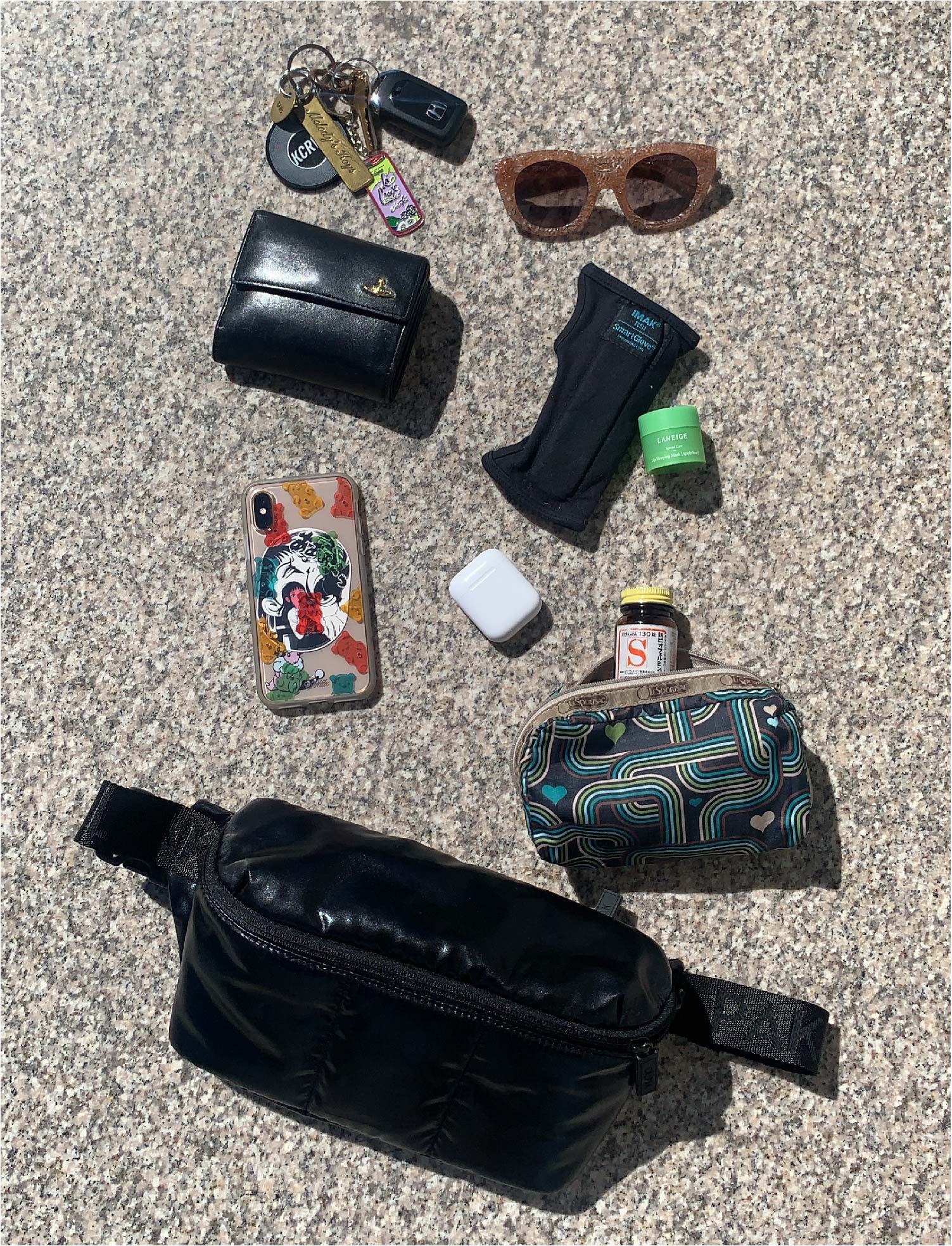 "It can get crazy in a bag so I try to only keep things in there that I really REALLY need. Aside from wallet, keys, phone, are my sunglasses-can't drive without them, AirPods, lip balm-smells like candy, and medicine-because I always have stomach issues. Carpal tunnel wrist brace which I don't always wear but should. I also have a portable charger so I don't have to get nervous when my battery is getting low. It gives me peace of mind to know I have these items in my bag. The back pocket on the Luka belt bag is my favorite because I can safely store important things that I need quick access to like my phone and tap card."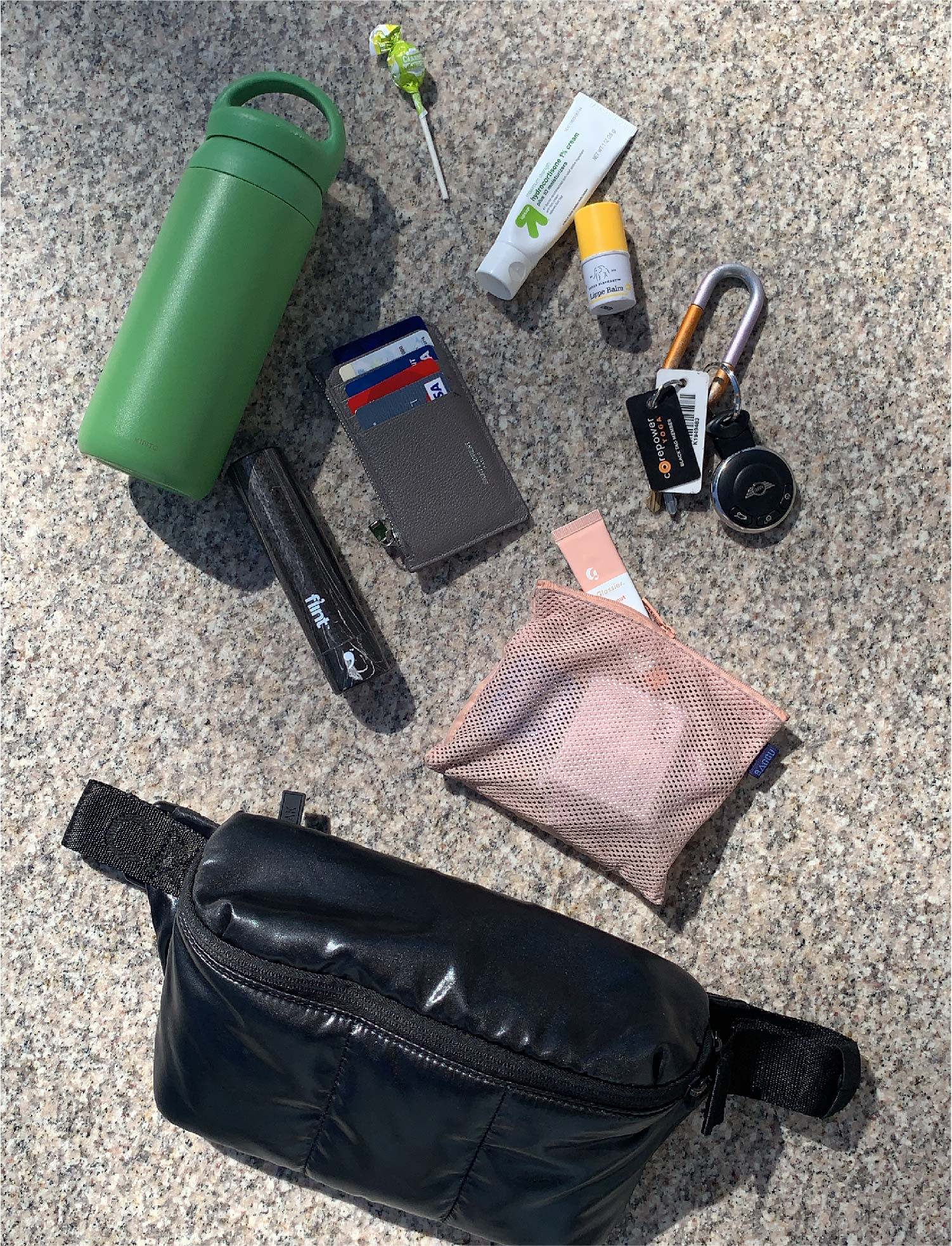 "My Luka Belt Bag fits everything, it's like a smaller, sleeker, and not bulky version of Mary Poppin's Bag. My strategy is to toss in everything until it's about to burst, at which point I pare down to my essentials:
A balm (or 2, or 3) for my lips because they're never not dry. My current favorite is the Drunk Elephant Lipee Balm but I also have the Glossier Coconut Balm Dotcom and the Bioderma chapstick (in the pink pouch) as back-ups.
Hydrocortisone to alleviate my annoyingly itchy bug bites.
Glide floss, also in my pink pouch, to keep my teeth healthy, clean and food-free.
I'm always parched, so my perfectly sized Kinto bottle travels with me everywhere. This way I can avoid water bottles and disposable cups, and you'll pleasantly find that everyone including baristas, waiters alike are more than happy to fill it up (with water), and ice too if you ask nicely ;)."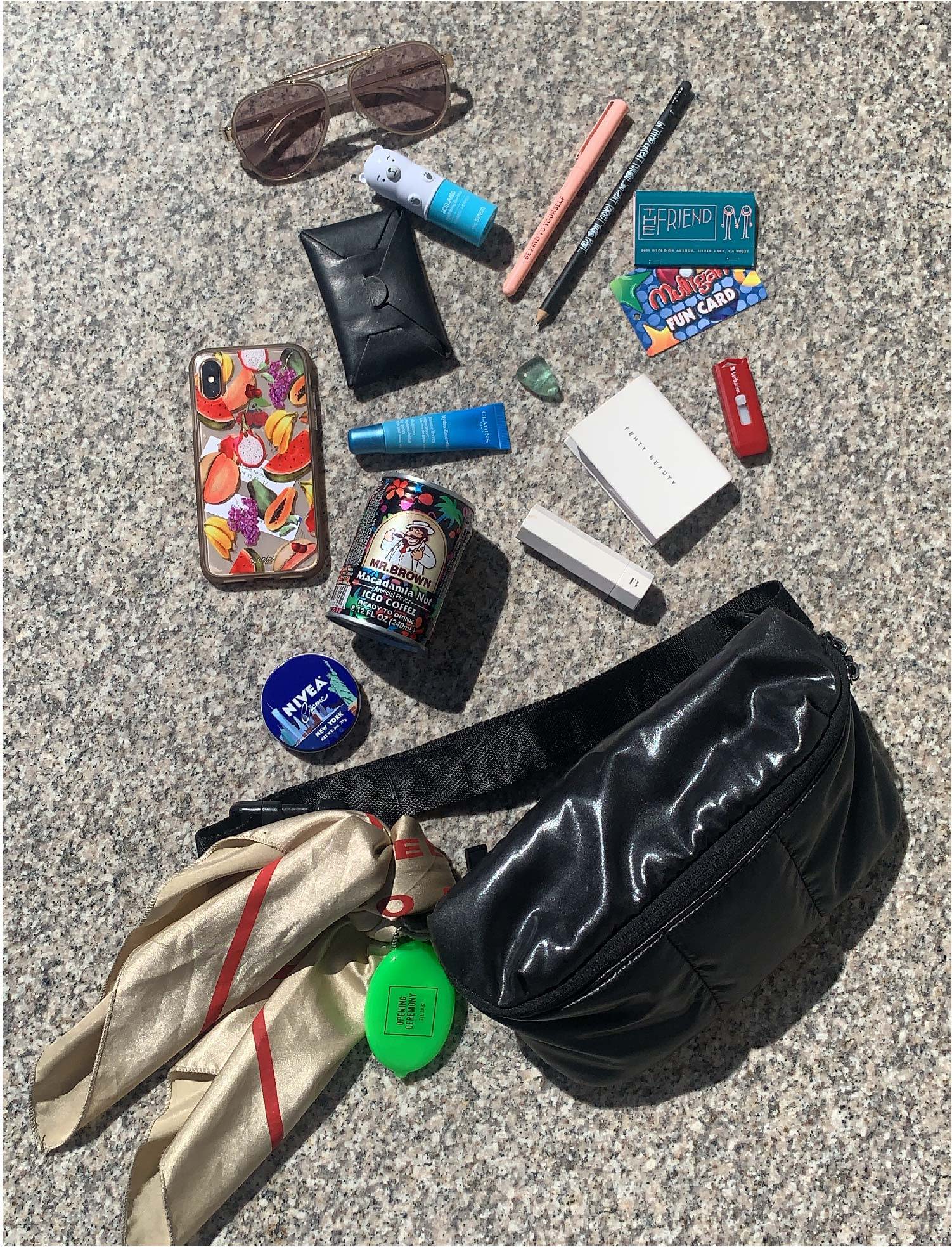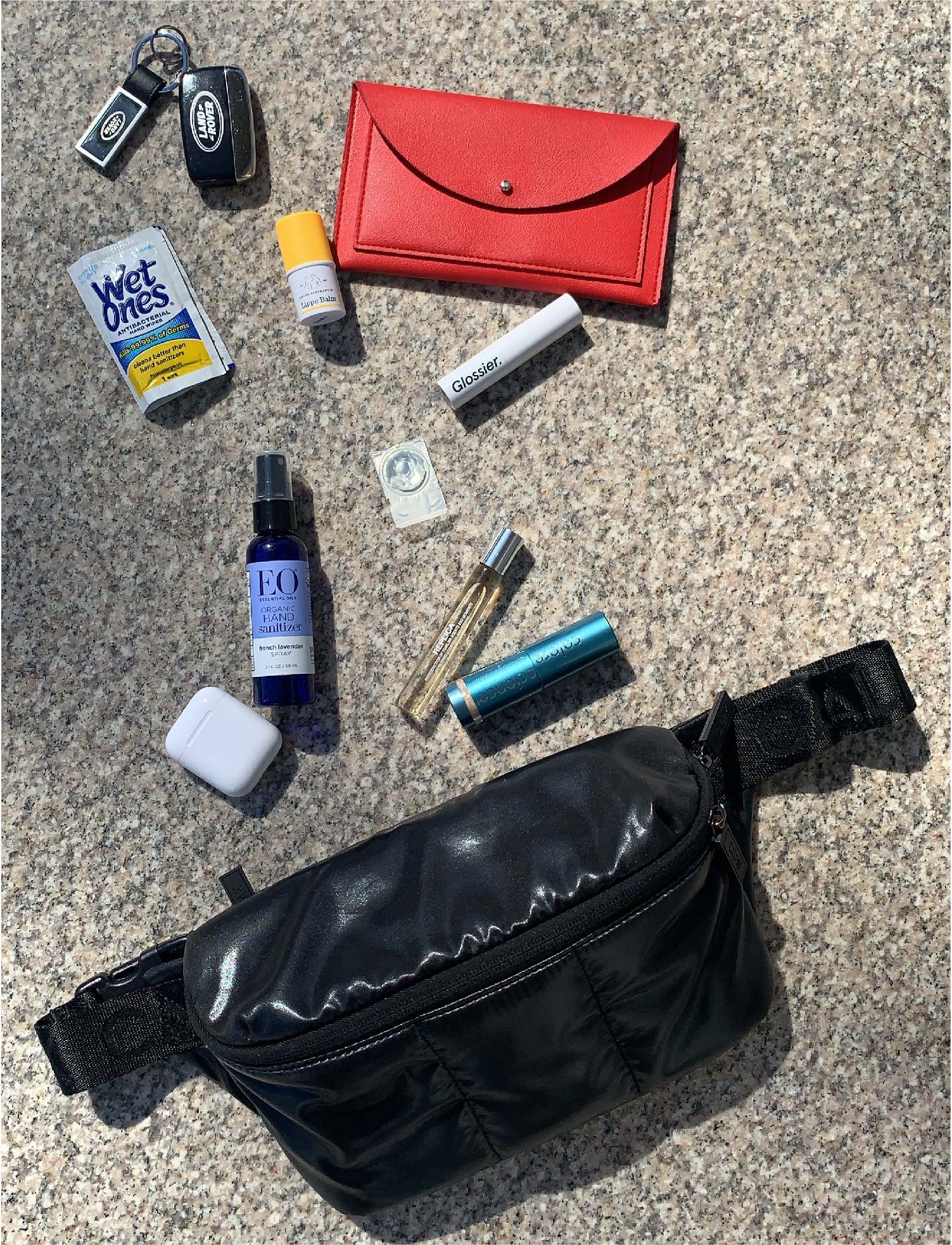 "Sometimes I don't even know what's in my Luka belt bag; I'm always adding more!

Other than my wallet and keys, my must haves are: hand sanitizing spray (love this EO spray) or wipes, a rollerball perfume (Maison Margiela Beachwalk), extra contacts (I wear dailies and have terrible vision so these are a must!), sunscreen for touchups (Colorscience), airpods, and lip balm (Drunk Elephant Lippe).

Not shown is my phone of course! I love all the pockets in the Luka belt bag so I always know where my keys are, something that I thought I would never say!"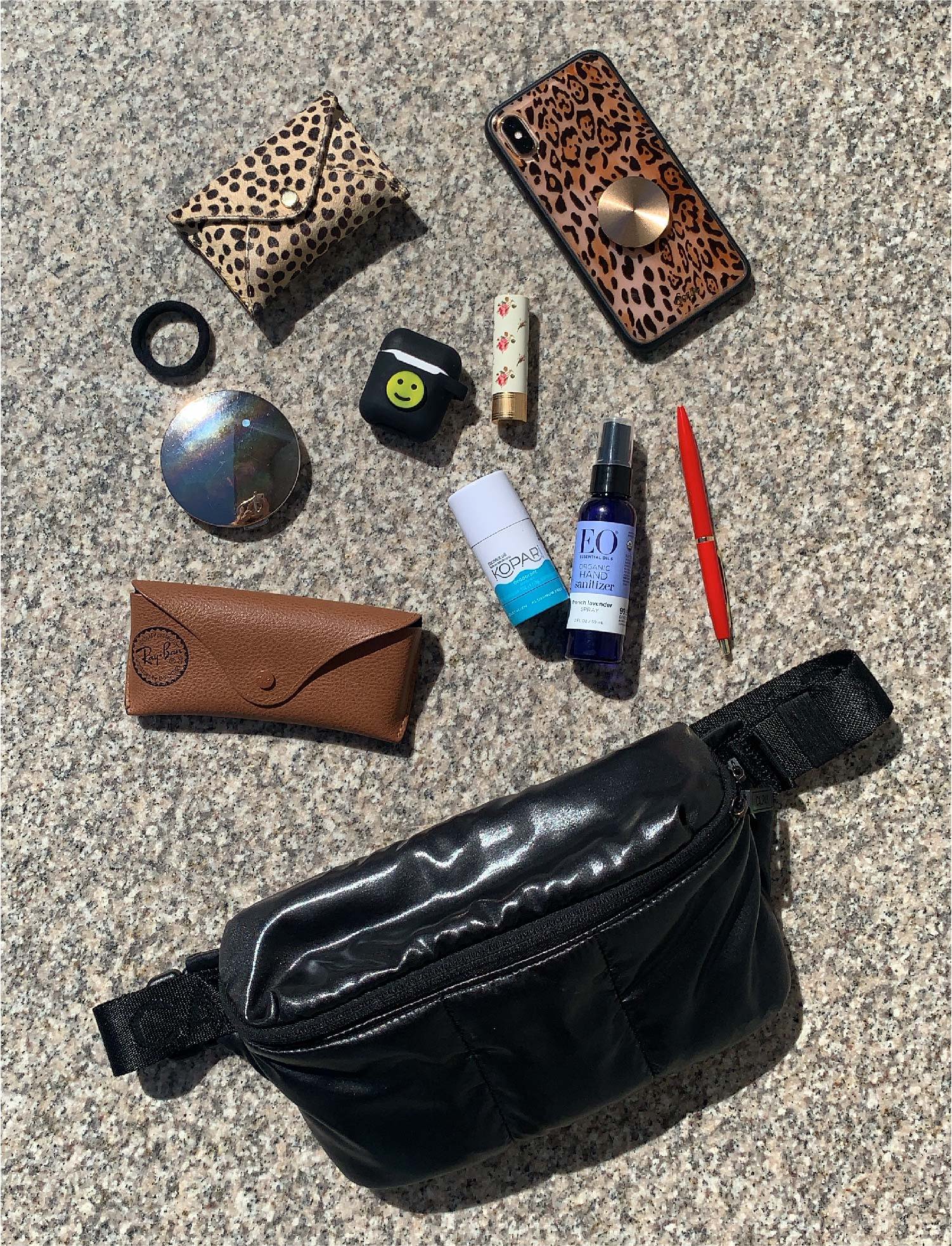 "My LUKA Belt Bag is my ultimate fave bag ATM! I am a lover of small bags so I can easily access everything and anything I have in my bag, therefore, this bag is like gold to me! I don't like to carry much, and try to keep what I carry very minimal since I hate lugging around a heavy bags. Obvi, can't leave without my mini card holder & phone! As you can tell, I am a huge leopard/animal print. I have so many lipsticks and glosses, but my current fave is from Gucci and wear it almost every. I always carry my AirPods because I concentrate on work stuff a lot better while my fave jams are playing. I love to freshen up through out the day, so I love to carry my mini Kopari deodorant, Jane Iredale Mineral Compact, & EO hand sanitizer. Cannot forget my sunnies and my pen. I always feel the need to carry a pen, because you just never know!"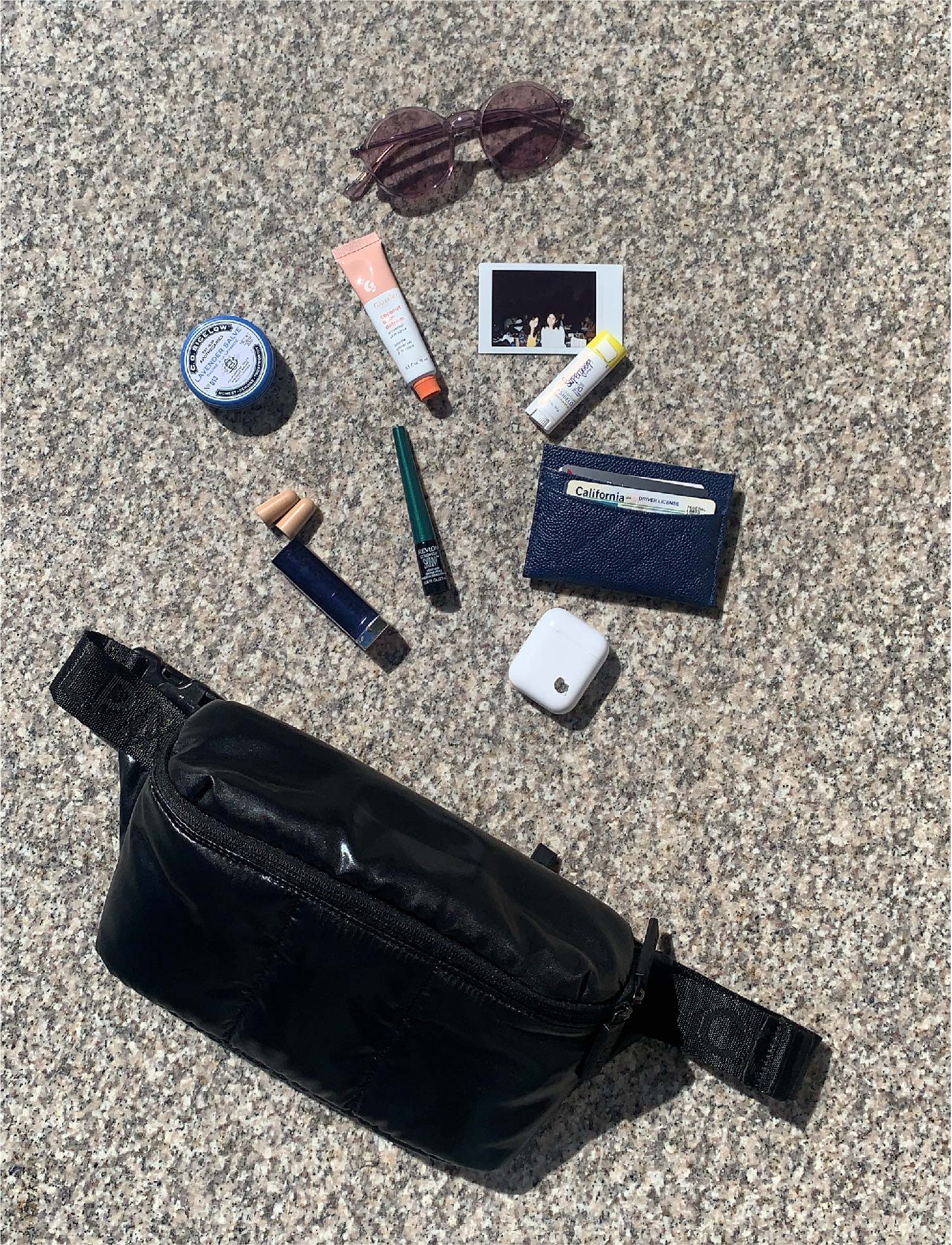 "I used to be a dedicated tote bag person but the Luka belt bag has completely converted me. The easy access, but also hands-free wearing has been liberating. In my bag I can bring my everyday essentials like my wallet, airpods, keys and still have plenty of room for my current lineup of lip products:
· Supergoop Lip Shield – I'm obsessed with staying protected from the sun and Supergoop's chapstick is an easy way to keep my lips protected from the rays.
· CO Bigelow Lavender Balm- I love this balm for preventing my lips from ever getting chapped but it is also great for keeping my cuticles looking nice.
· Glossier Balm Dot Com in Coconut – My newest addition to the lip hydration collection, I've been addicted to the coconut goodness of this balm.
· Maybelline Orange Danger Lipstick – I pretty much exclusively wear coral lipsticks and this is one of my current faves.
I also keep a backup eyeliner just in case of make-up emergencies. My normal day to day eyeliner is black but I keep this Revlon Colorstay Eyeliner in Green Spark because I can layer it on top of my current eyeliner for an instant fun look. The Luka belt bag has also been great going to concerts and events because I love how secure my stuff feels when I wear it across my body. I am notorious for forgetting to bring earplugs for concerts but I don't have to worry about that anymore because they now have a permanent home in the mesh pocket of my belt bag."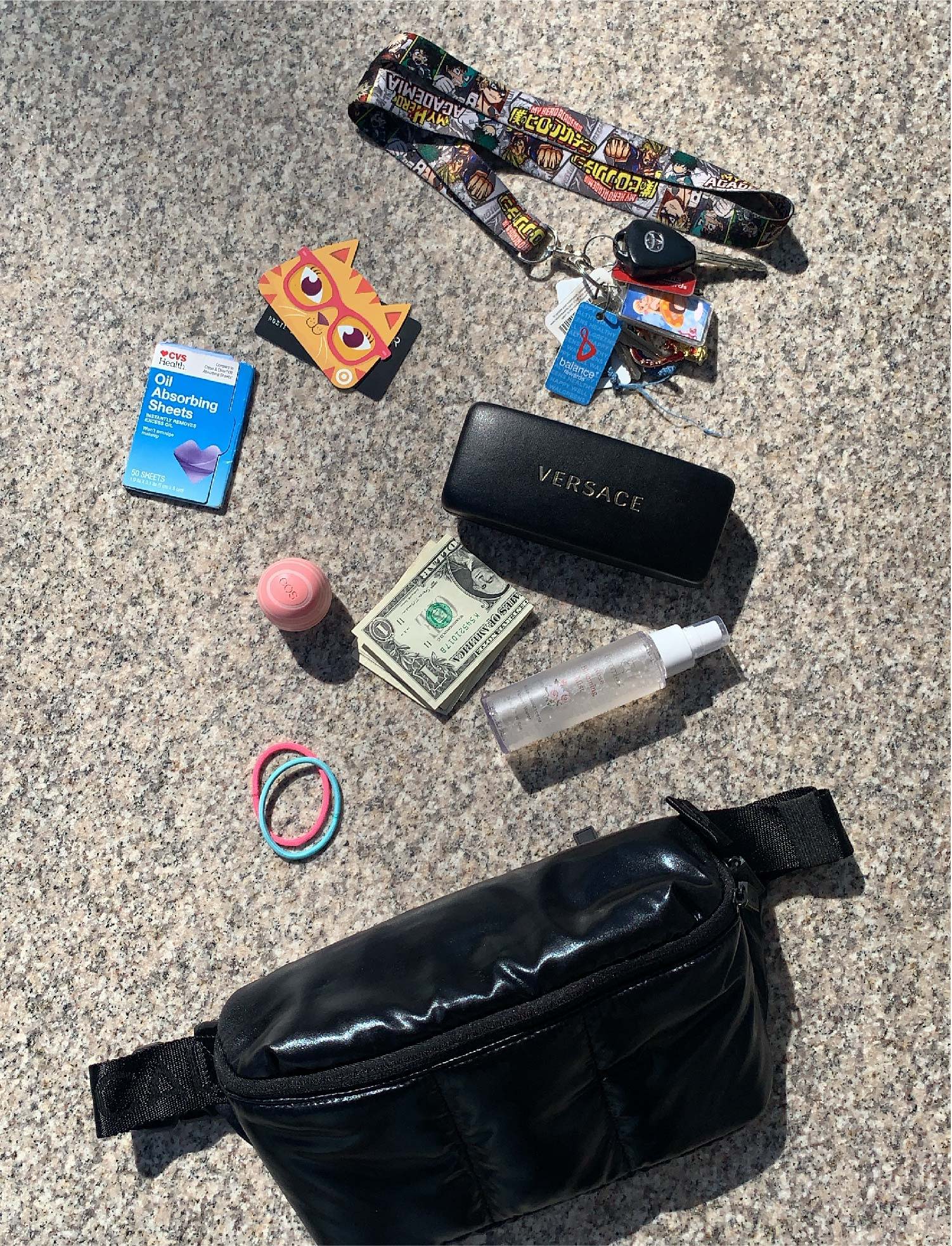 "My Luka Belt Bag is my go-to bag that fits all my needs on the go. As someone who uses large purses to carry all my essentials and bulk items, it's honestly so nice I can carry everything on a small size bag that fits everything and still looks super STYLISH. The items I cannot leave my house without having on me are my car/house keys (with my Hero Academia Lanyard for all you anime lovers), my credit cards, my glass case, my phone (not pictured) spare cash for those days where you go to restaurants/shops that take cash only, and my scrunches when I'm just done dealing with my frizzy hair or can't take the heat any longer. The items that are essential for me are on a daily basis are my Oil Absorbent Sheets and my Commleaf Rose Blooming Mist for those sunny/oily days where you just need a little of a refresher on your face. Since I have very oily skin, especially during the Summer, carrying these really helps not having so much shine on my face and it feels super REFRESHING and like I'm a whole new person. I honestly cannot live without my lip balm which I carry with me on all occasions no matter what. Not only does it go on smoothly on my lips but it smells and taste AMAZING as well! ❤"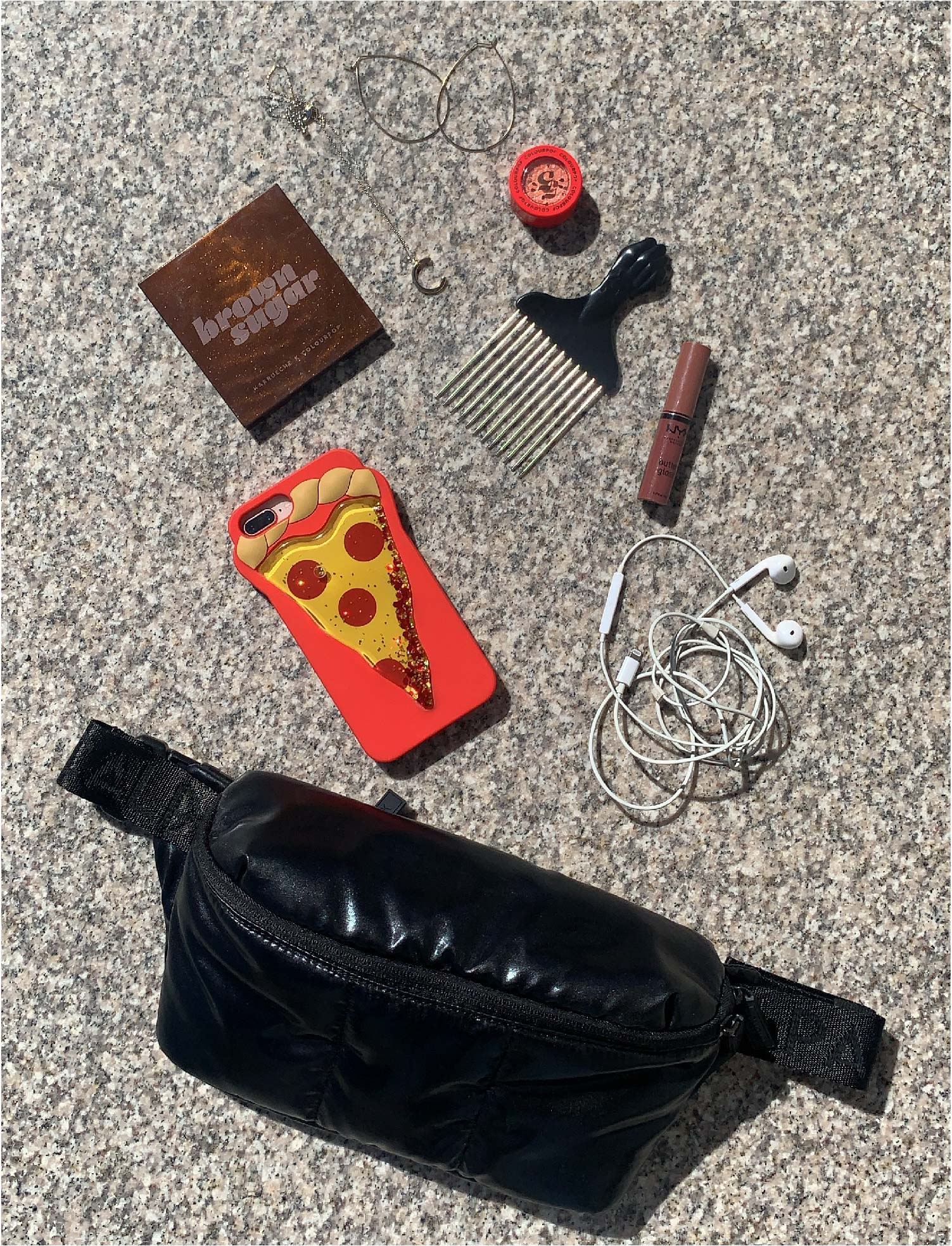 "My Luka is my "on the go" bag, whether I'm going to the gym, running errands, or a night out. How many belt bags do you know that can hold a whole makeup palette!? My can't live without item in my bag is my hair pick 🙌🏾! It allows me to keep the volume in my hair all day.
Can't forget my NYX Butter Gloss in the shade Praline. It's the perfect nude for all my Brown Skin Girls. Not to mention it's super affordable!
I always carry earrings and a necklace. You never know when you need to spice up your outfit.
My particular accessories are from Forever 21. They are super lightweight and trendy. They go with everything. Last but not least my Brown Sugar palette from ColourPop. This is my go to palette. The 90's grunge look it super popular right now and this palette is ideal for that look."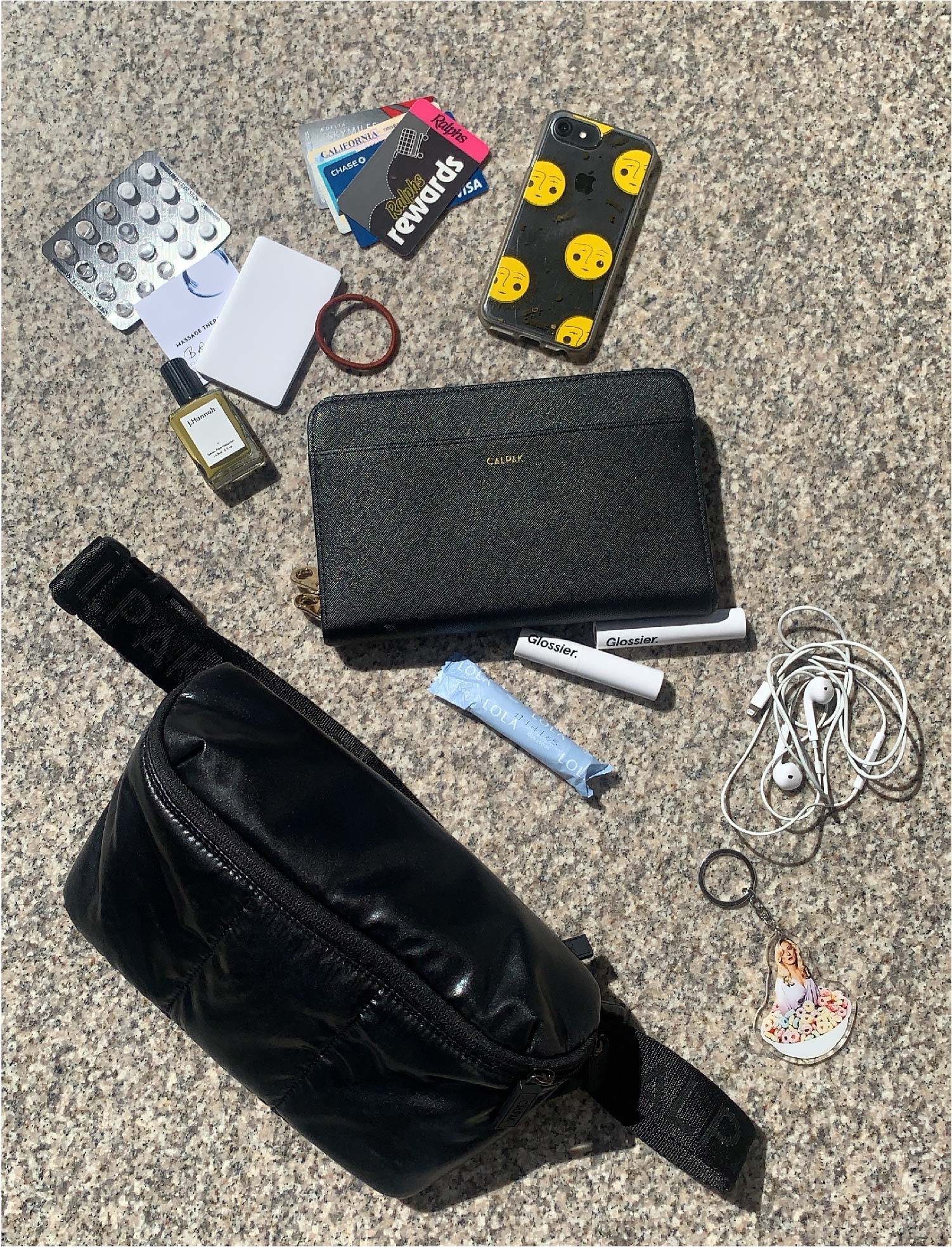 "I have a really bad habit of never checking what's in my purse, backpack or wallet before I leave my house, so I tend to just keep whatever I need in my belt bag at all times. Outside of my essentials, I have the stereotypical emergency items like a portable battery charger, tampons, and Cold Calm. But then I also have the just in case items like J. Hannah nail polish, Generation G lipstick, and Man Repeller Unibrow sunglasses. The Luka belt bag keeps all of those things close by and available, without being in the way. My true essentials are in a place that keep my hands free and my mind at ease."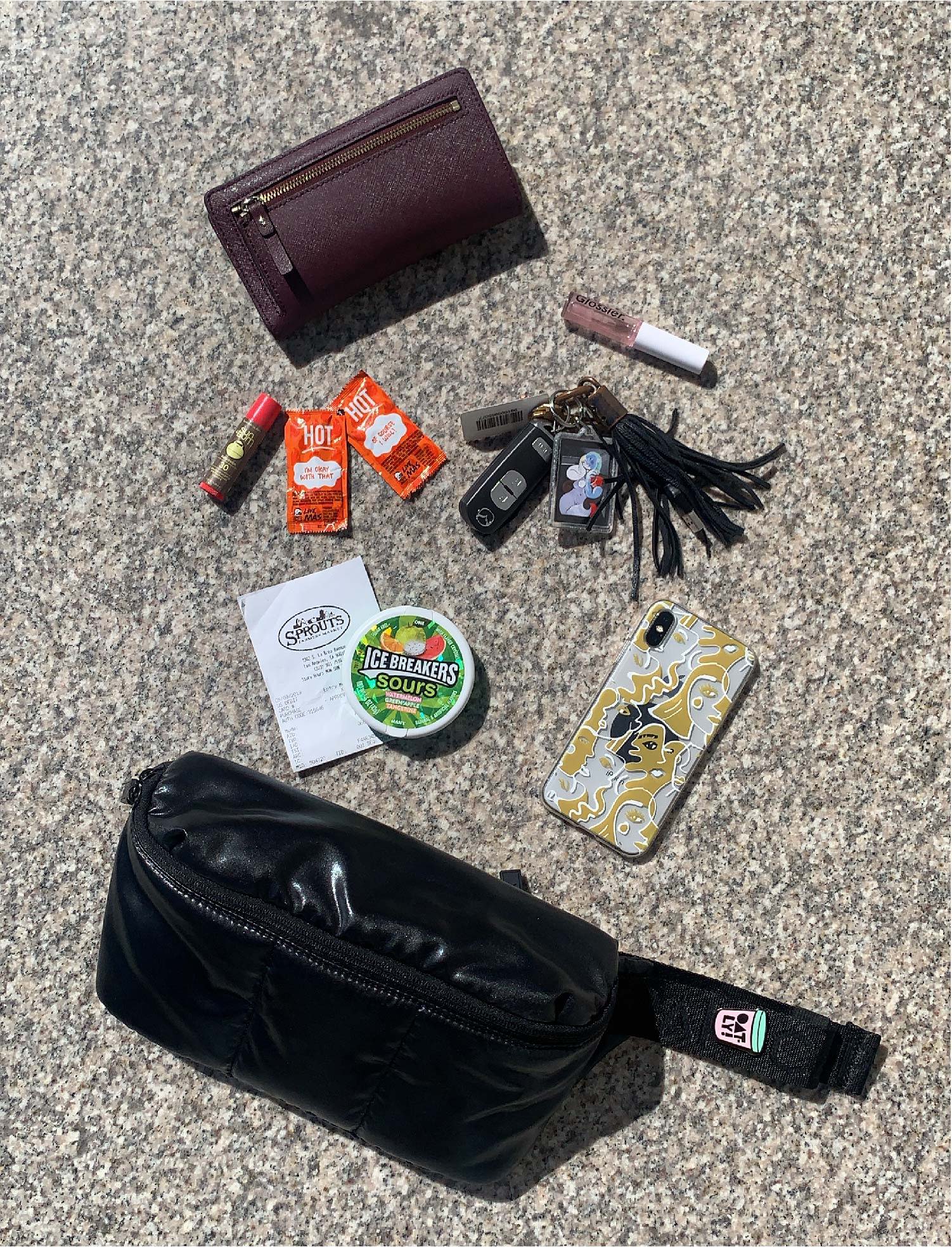 "I'm the kind of person where you never really know what you're going to find in my bag. I have the regular stuff - hair ties, car keys, and my way-too-big-wallet. I always keep my phone in the hidden exterior pocket because I loose my phone about 10x a day and having a separate pocket for it makes my life a lot easier. My car keys have a USB to lightning cord that is disguised in a fun fringe keychain - perfect for those days your phone is unexpectedly at 3%. I always have an SPF lip balm with me – this one from Sun Bum smells great and is SPF 30! I also always have my Glossier lip gloss on me, I've never been into color on my lips so this adds just the right amount of *pizazz.* I've been hooked on Ice Breakers Sours lately, I have a pretty big sweet tooth so they're the perfect in-between of a mint and a piece of candy. Lol. And of course, I have some Taco Bell hot sauce packets in there because well, ya never know when you're gonna need a little hot sauce. The Luka belt bag really can hold it all and goes everywhere with me!"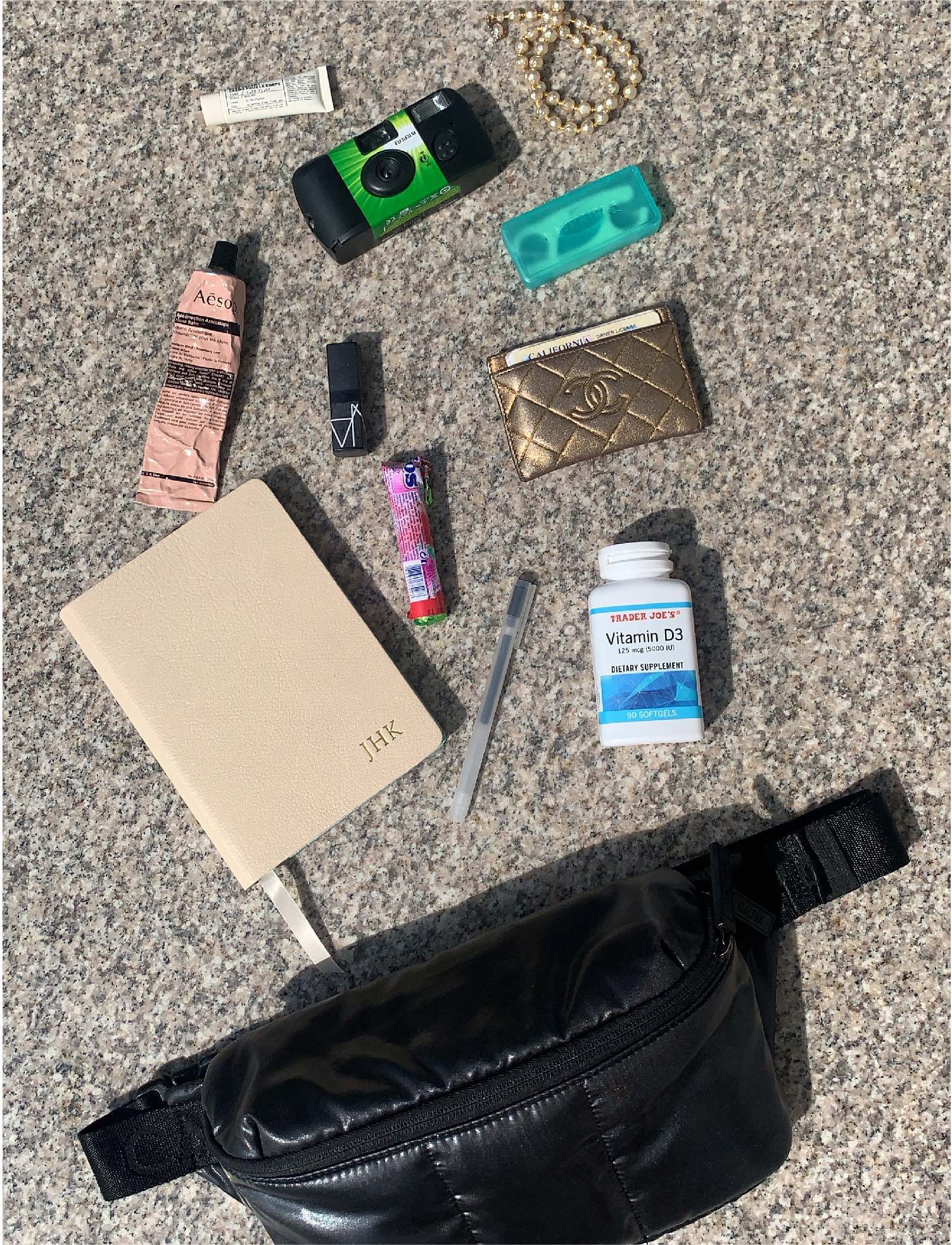 "I'm a "just in case" kind of person. Which is why the Luka bag has become my new Marry Poppins bag. It fits so much inside that I discover new items to add to it each time! I just used it for a trip and it was perfect to include my disposable camera, floss and some extra jewelry if I don't make it back to my hotel for a "night out" look."
---