"Vacationing" When You Can't Leave The House
When you're asked to use your PTO time while also being told to shelter-in-place, it can feel like you're "losing" vacation days. We asked one reader, Ellie, to tell us how she's making the most of her PTO and bringing the vacation vibes home.
Where Do You Work?
I work at a major law firm in New York City.
How Would You Normally Use Your PTO?
Normally, I save up my days to leave the city. Being here on workdays and weekends is great, but when it comes to my "vacation" time I usually equate it with getting on a flight, preferably to LA or somewhere in Europe. At the very least I would escape up to Catskills and rent a cabin with friends.
How Did You Mentally Prepare for this Staycation?
First I had to reframe my thoughts around what it means to take a vacation. Instead of thinking of it as time away from home, I realized that it could also mean dedicated time away from work. Working from home has been a major adjustment for me and I knew I would benefit from spending time offline.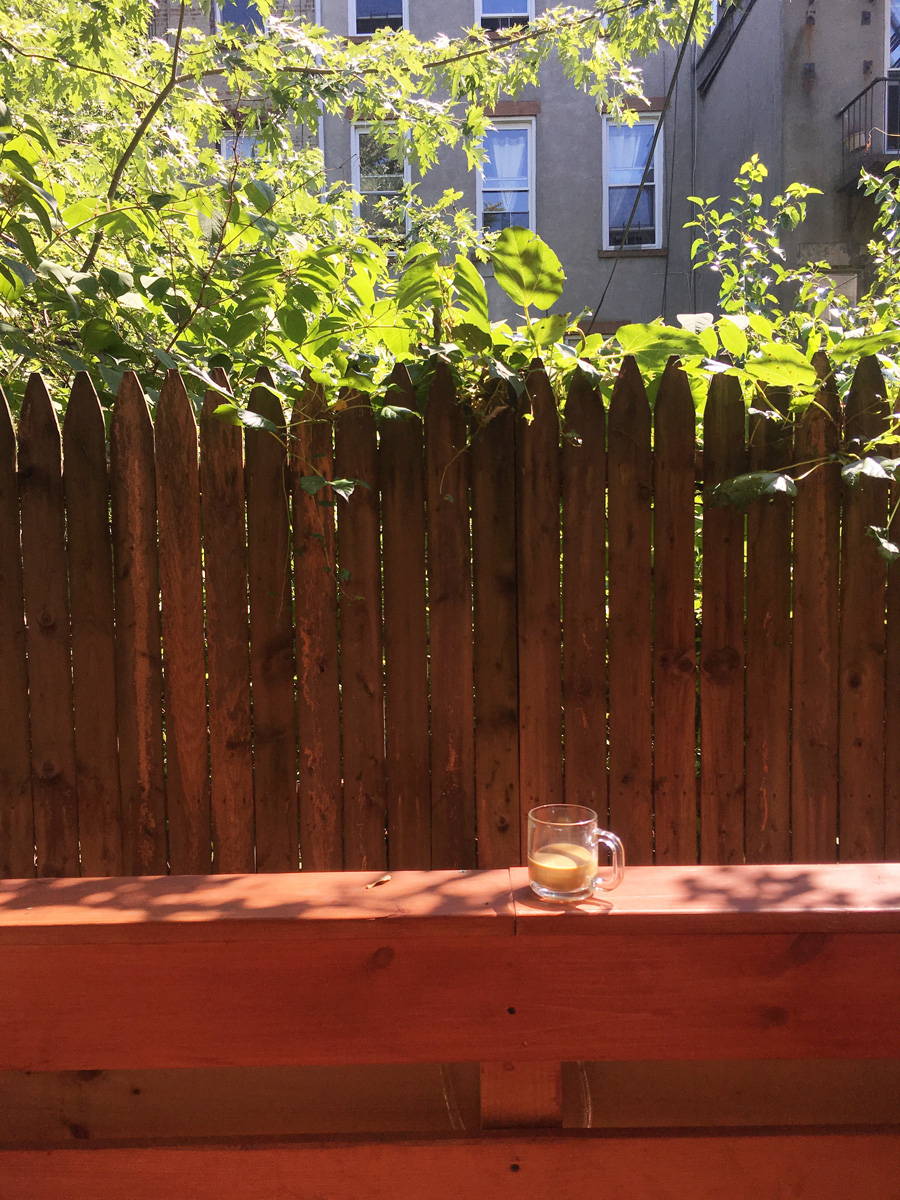 Ellie's backyard in Brooklyn, New York.
How Much Time Did You Take Off?

I carried over days from last year that I needed to use so I took a full week (5 business days) off. My "staycation" was from Sunday to Saturday so I could use the bookend days to prep.
 

What Do You Mean By "Prep"?
I hate coming back to a messy apartment so I usually clean my one-bedroom loft from top to bottom before I travel. Even though I was staying home this time, I stuck to my pre-vacation routine and spent Saturday cleaning (while listening to your cleaning playlist). I put away anything that would tempt me to try and tackle house projects during my time off and also pulled out the outfits I wanted to wear during the week and set them apart in my closet, similar to curating a vacation wardrobe. I used the Sunday before I went back to work as a day to reset my mind and apartment for the work week ahead.
How Did You Make Your Staycation Feel Different Than a Long Weekend?
I actually unplugged! It can be really hard to disconnect from my work, even on the weekends, but I made sure to let my team know that I intended to be fully offline and made a concerted effort to stick to that. I even put my desktop monitor in a closet so I wouldn't be tempted to log on. I told friends and family that I was "away" (from the screen) for the week and let myself skip virtual socializing. I committed to not being "productive" around the house because I wanted to use this time to relax and reconnect with myself, the way I would if I were in a different place and time zone.
Lastly, I tried to create a vacation "vibe" at home without being cheesy about it. I made my bed with all-white sheets and used my white towel set, robe, slippers and nice bath products to feel like I was in a hotel. I got a great candle that smells like a tropical destination and kept it lit every evening. I rarely watch TV when I'm on vacation so I stocked up on "beach reads." During the days I did pre-planned virtual activities, including a wine tasting and a pasta making class. There are so many great virtual offerings right now that I had plenty of options. On the last night of my vacation I even did virtual speed-dating, because what vacation doesn't include flirting with a cute stranger? I gave myself permission to skip workouts, have mimosas in the mornings and order delivery all week instead of cooking. Everything I wouldn't feel guilty doing at a resort, I let myself do at home.
Would You Take a Staycation Again?
Absolutely! Five days was a lot of time to fill and nothing will ever beat relaxing on an actual beach, but this week helped me realize that I can get a lot of the benefits of a vacation (mental escape, permission to "break the rules", relaxation) without ever leaving my apartment. Even if I just take a day off to extend a weekend and get in some more "
me-time
" it would be worth it.
What's the Key to A Great Staycation?
Plan ahead. The worst thing you can do is take the time off and then waste the days trying to decide how to spend them. You don't need a detailed itinerary but you should pick a theme for your time off and think of ways to bring that home before you start the staycation. You can create a wellness experience with yoga and green smoothies, or schedule a writer's retreat where you work on your long-neglected novel. If you go into your staycation with an outcome in mind (e.g. "I want to come back relaxed" or "I want to complete a watercolor class"), it will be much easier to recognize it as time well-spent, even though it was spent at home.