How a "Capsule Wardrobe" Changed The Way I Travel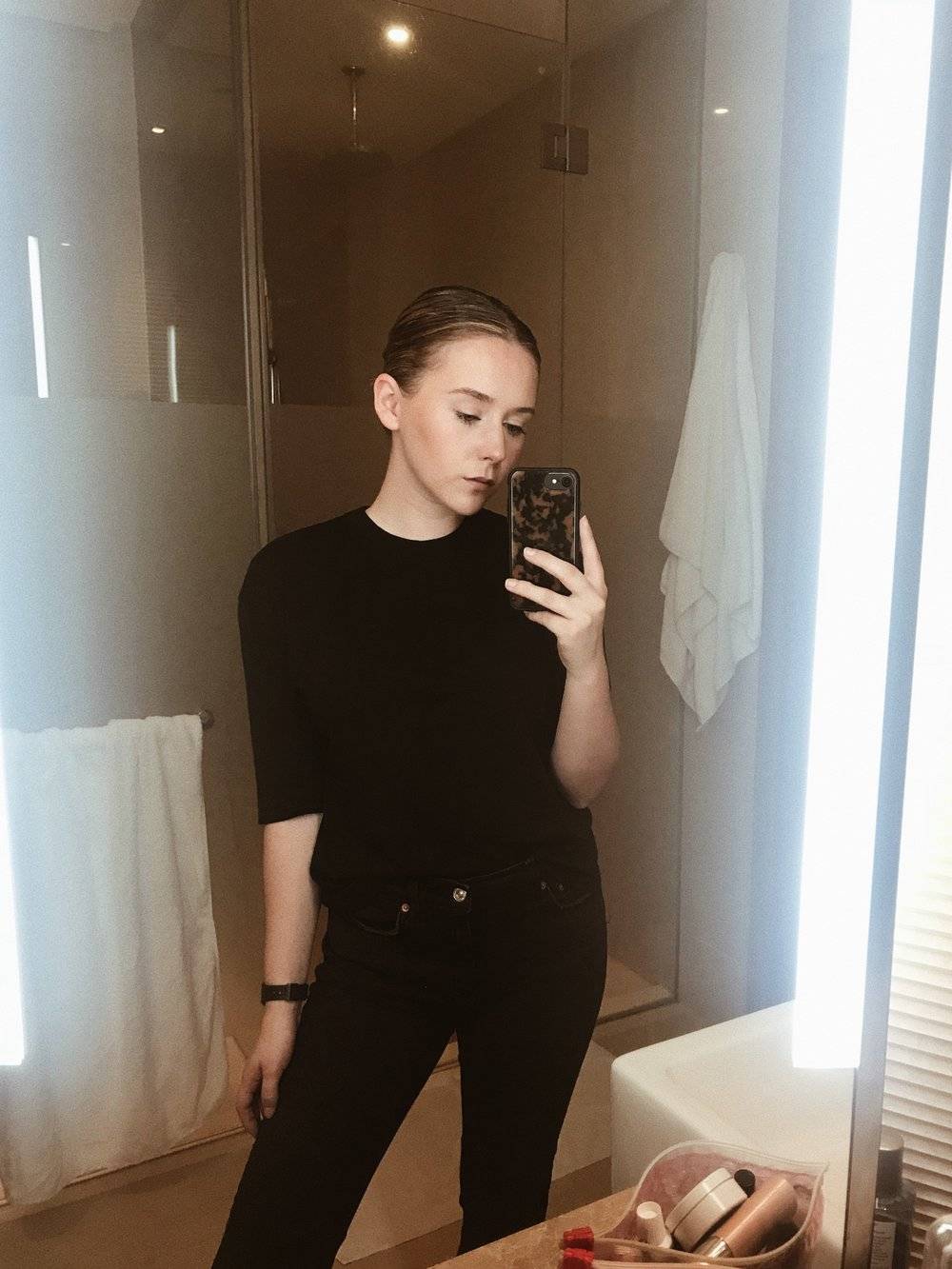 Packing for 10 day work trip.
Have you ever started packing for a long trip and thought, "holy sh*t, why is this so frustrating?" Yeah? Same. It's like… You want to look your best at all times, but you're forced to live out of a 24" box with wheels where your clothes are always wrinkled, and for some reason everything you own *magically* gets uglier the moment you arrive.
A few weeks ago, I was on a 10 day work trip that required me to be semi-casual, semi-professional, and always comfortable. Let me say this: I've been on this trip before. I should know how to pack for it. But for some reason, it gets harder and harder because I'm always looking for a better experience. That's where the "capsule wardrobe" comes in.
…a collection of clothes that are considered year-round, essential, and interchangeable, so that you can maximize everything you own. The idea really kicked off in 1985 when Donna Karan released a capsule collection of only 7 pieces that could be worn in a multitude of ways. It's important for every item you own to be "interchangeable," but it takes some seeeerious work. For starters, most capsule collections have a color scheme, a restriction on patterns and prints, and only simple, easy shapes that can be manipulated.


You can use fashion bloggers' collections on social media as an inspiration when creating your first capsule wardrobe.
As you can see in the collections above, there are two different ways of planning this out. There's the Pinterest version, which is as simple as spending the day in your closet and photographing what works. Or there's the Polyvore/Photoshop version where you composite all the pieces together on the computer. I prefer doing everything on the computer because I have a really bad habit of hosting a one-man fashion show and not hanging everything back up. Plus, I feel like Cher in Clueless.
Wardrobe planning applications will help you get started.
A few weeks before I left, I knew it was going to be important to cross reference the weather with what I was planning. At the lowest, the temperature was going to be in the 60s and at the highest, it was going to be in the 80s. I needed to have a jacket (or a heavy sweater) for the mornings and nights out, and be able to take that off during the day when it got really hot. I also needed to be prepared for any rainy, windy weather. Nothing sucks more than cold, wet feet.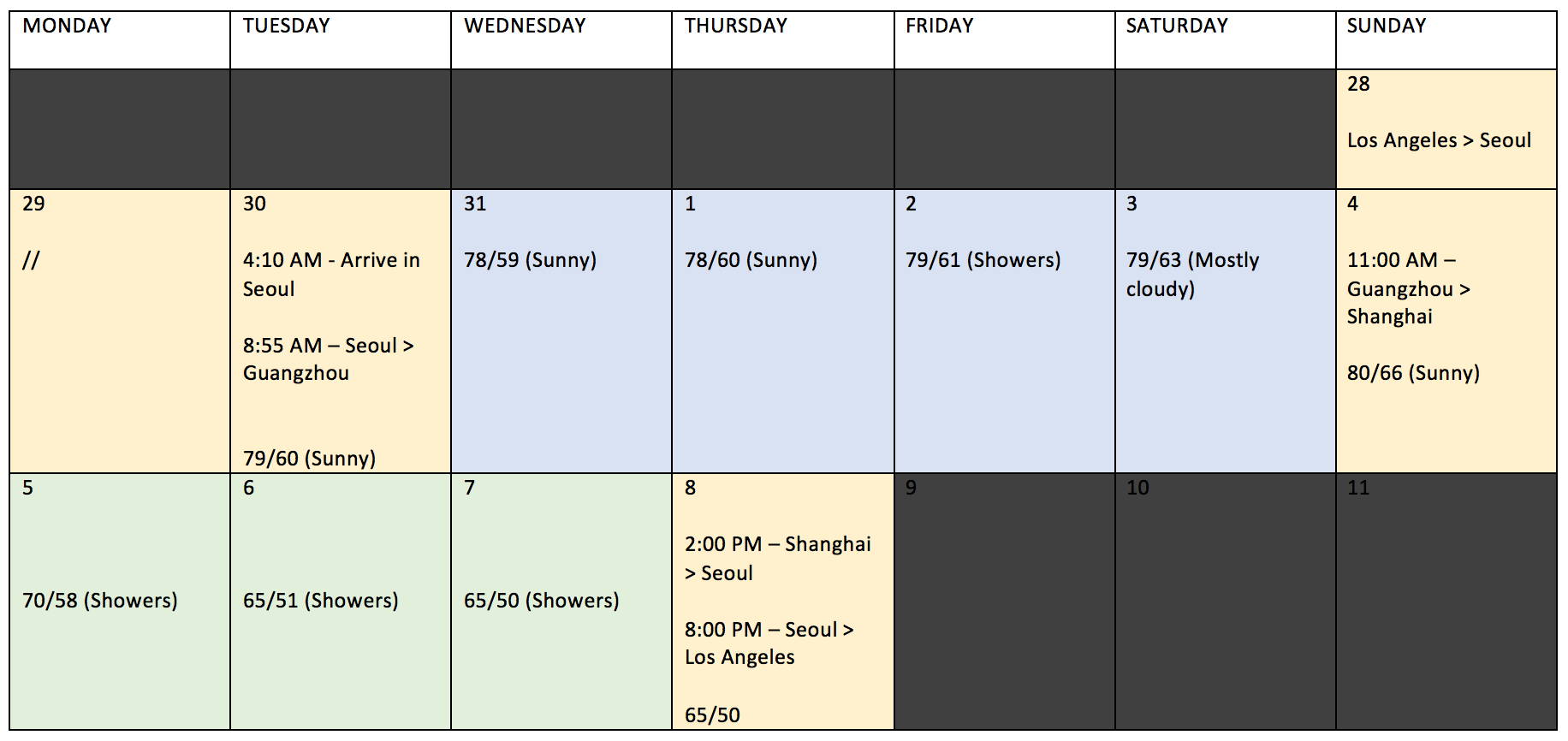 Business trip calendar combined with weather forecast is a good tool to understand what outfits you will need on your trip.
If I had 5 minutes to pack up all of my clothes, and leave everything else behind forever, these are the things I would bring: 1 - Beige, crepe blazer, 2 - Denim button down, 3 - High waisted, stretch jeans, 4 - Cropped flare jeans, 5 - Cream, oversized patchwork sweater, 6 - Black, cashmere sweater, 7 - Mock neck T-shirt, 8 - Black, lightweight T-shirt. These were the "essential" pieces that started my capsule wardrobe.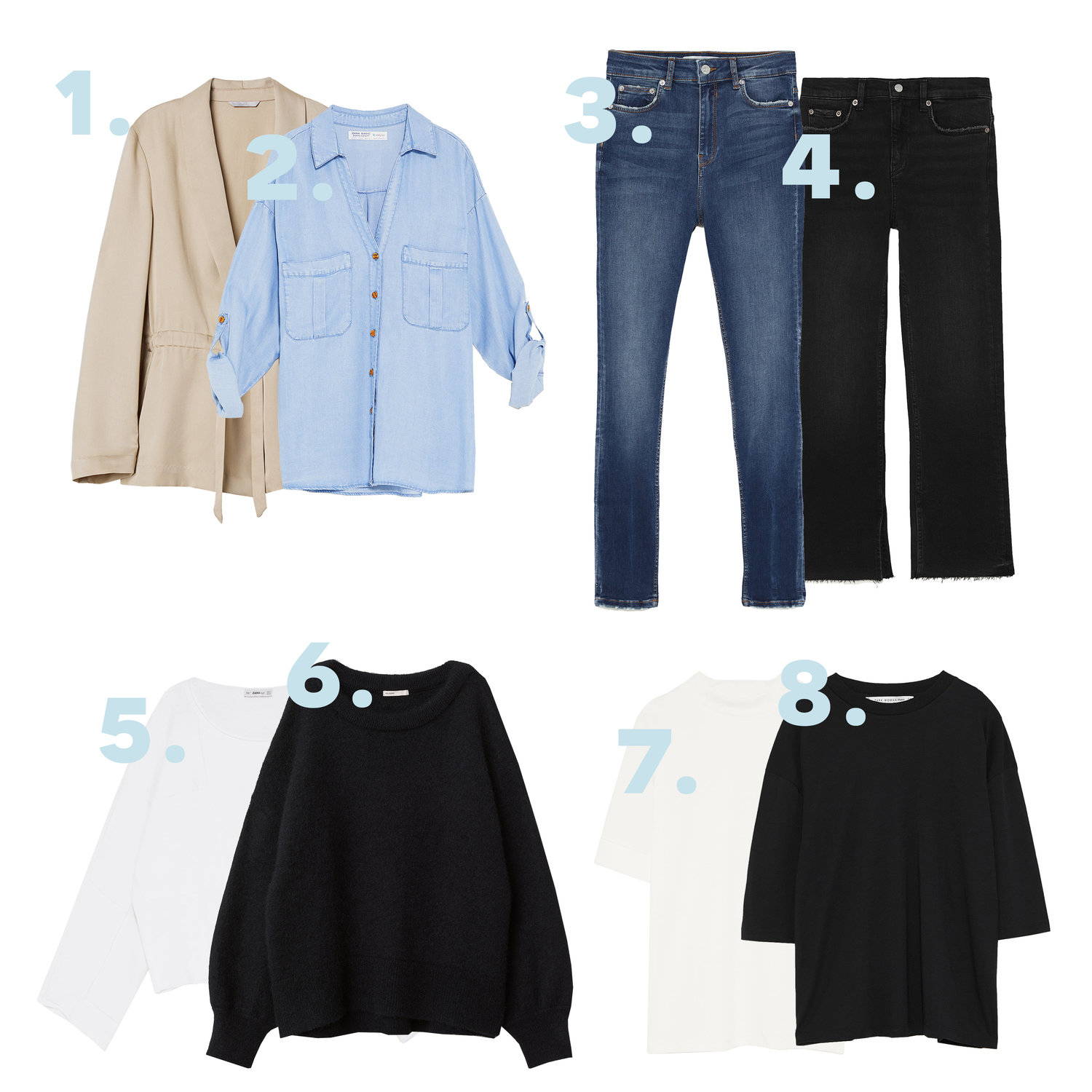 The set of basic clothes is a foundation of a capsule wardrobe.
2. LAYERING WITH MORE BASICS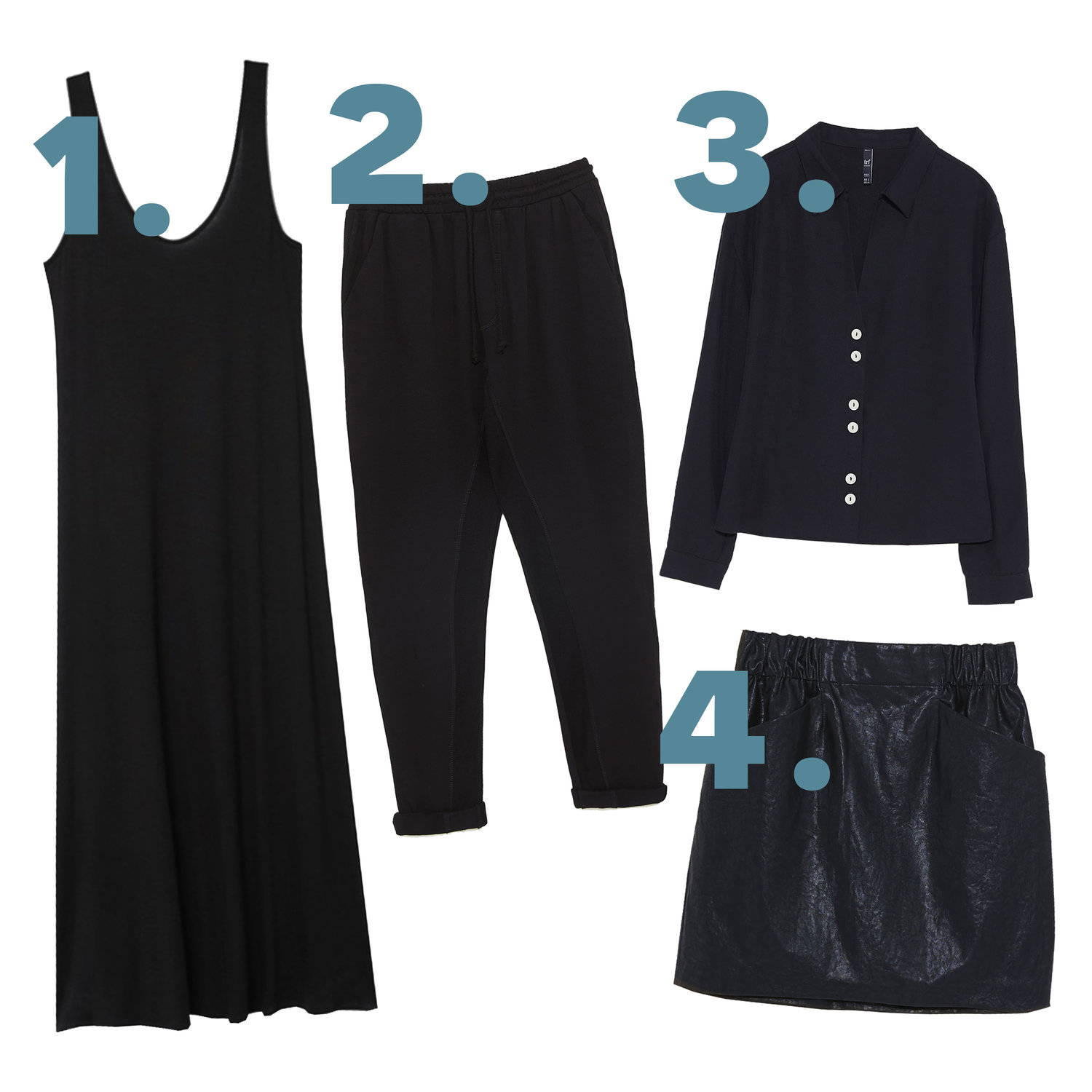 Additional layer of basics is helpful when you are travelling without access to washing machine or laundry.
I know, step 2 really breaks the capsule wardrobe protocol by introducing more pieces and having those travel-hoarder tendencies, BUT I have a really good excuse. Last time I went on this trip, I ate so much food that I reeked by the time I got home. Those are the kinds of smells that linger, and without any access to a washer and dryer, it was important to have a back up plan.
Before Adding "Extra Basics"

After Adding "Extra Basics"

Combine the pieces to outfits that will be relevant to your activities.
By adding in these "extra" pieces, I felt like I had the freedom to choose a different outfit if I spilled something on a pair of jeans, or I needed to be just a tiny bit more comfortable the next day.
3. ACCESSORIZING EVERYTHING
Step 3 is the easiest and least stressful part of the entire process because the items are so small and interchangeable. Plus, it's kinda like giving your outfit a theme; am I going to be edgy today? Chic-professional? Sporty comfortable?
1 - My Kaya Laptop Backpack, for the days when I need my laptop and want to feel like a boss b*tch.
2 - My Travel Wallet, for when I'm walking around a lot and don't want any baggage.
3 - My Murphie underseat (shop similar), for when I do want a lot of baggage and have all of my belongings right next to me.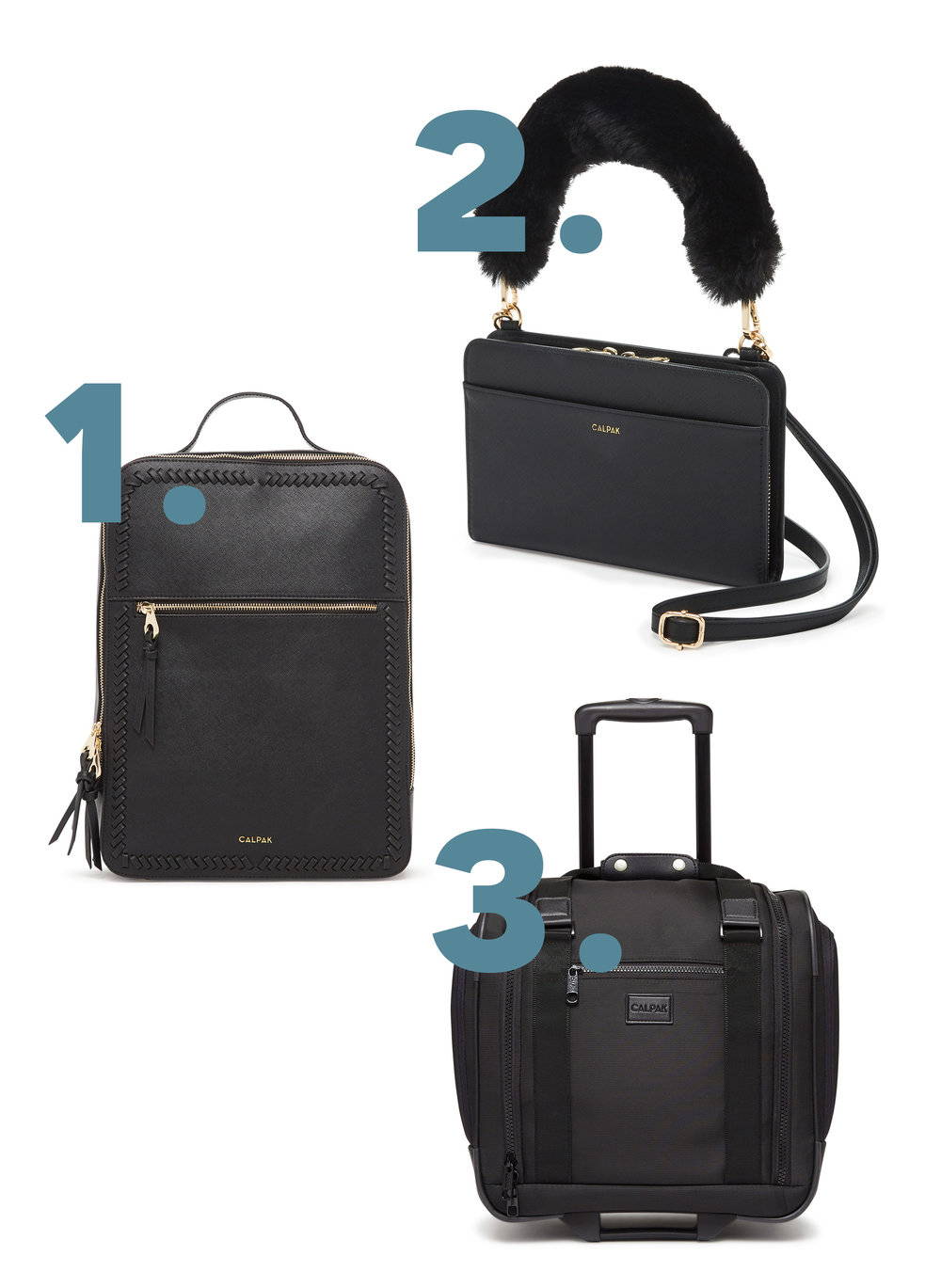 1 - My Vans, for the days I know I'll be on my feet, walking around, and on the move.
2 - My Dr. Martens, for when it's raining outside and I can't afford to get my feet icky.
3 - My loafers, for the meetings, the dinners, and the days of travel. Don't underestimate the power of a slip-on.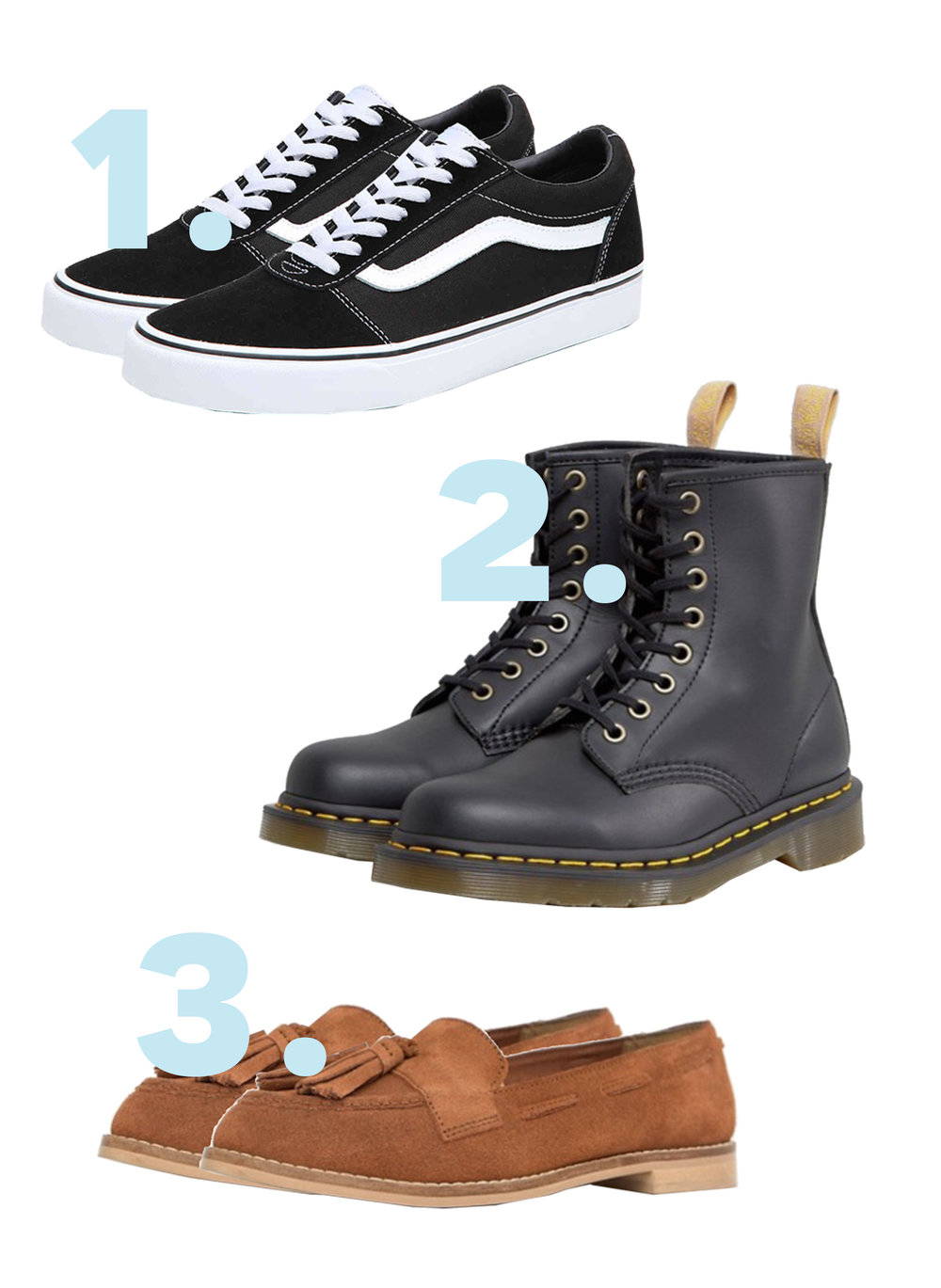 Adding accessories (bags, shoes, jewelry, etc.) is a final step in capsule wardrobe creation.
1. Smaller suitcase
2. I had more room to bring back gifts for friends
3. Less stress when getting dressed in the morning
4. I had better outfit confidence
5. I spent less time worrying about my appearance and more time on my trip
1. You could tell I was re-wearing clothes
2. I was always smell-checking myself
3. I was bored after a few days
4. I got soy sauce on my favorite sweater
If you asked me, "Would you do this again?" My answer would be, "Absolutely." Sure, I spilled soy sauce on my sweater because I was wearing it to dinner every night, and sure, my co-workers could tell I was wearing the same jeans over and over again, but the ease of getting dressed every morning is something I crave even now that I'm home. Want to see some of my outfits throughout my trip? Scroll through below!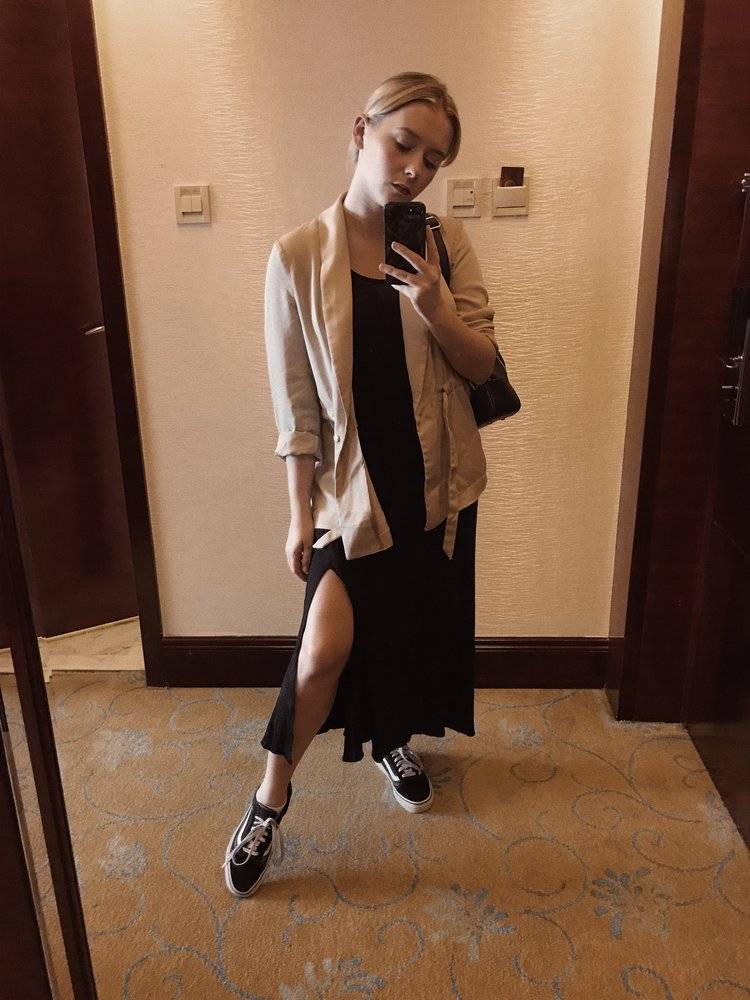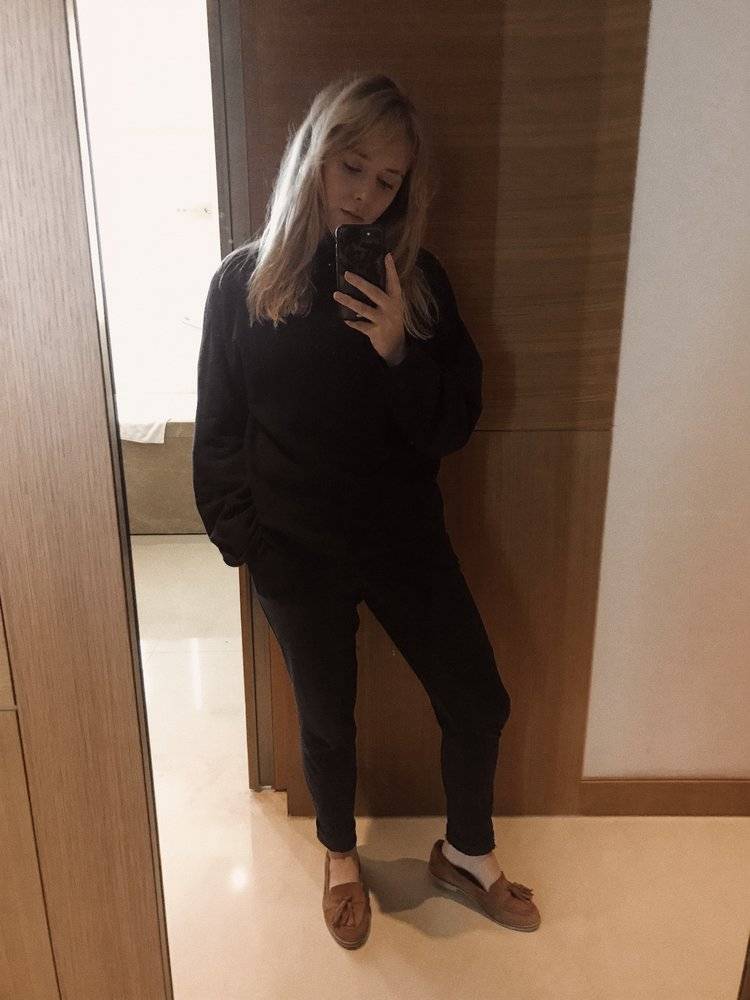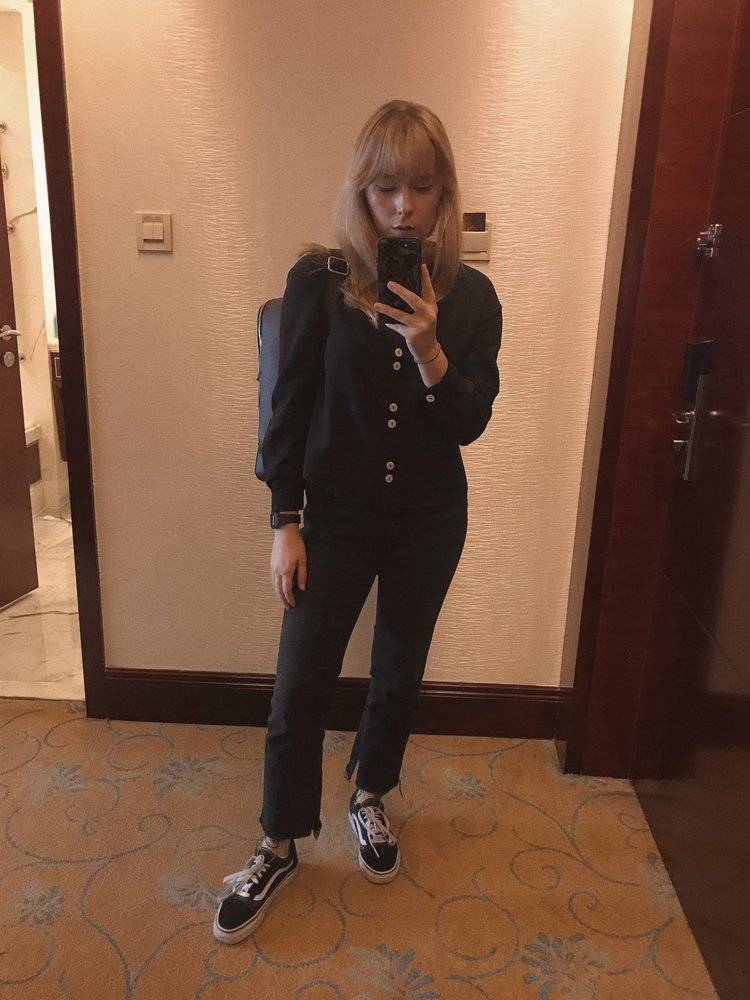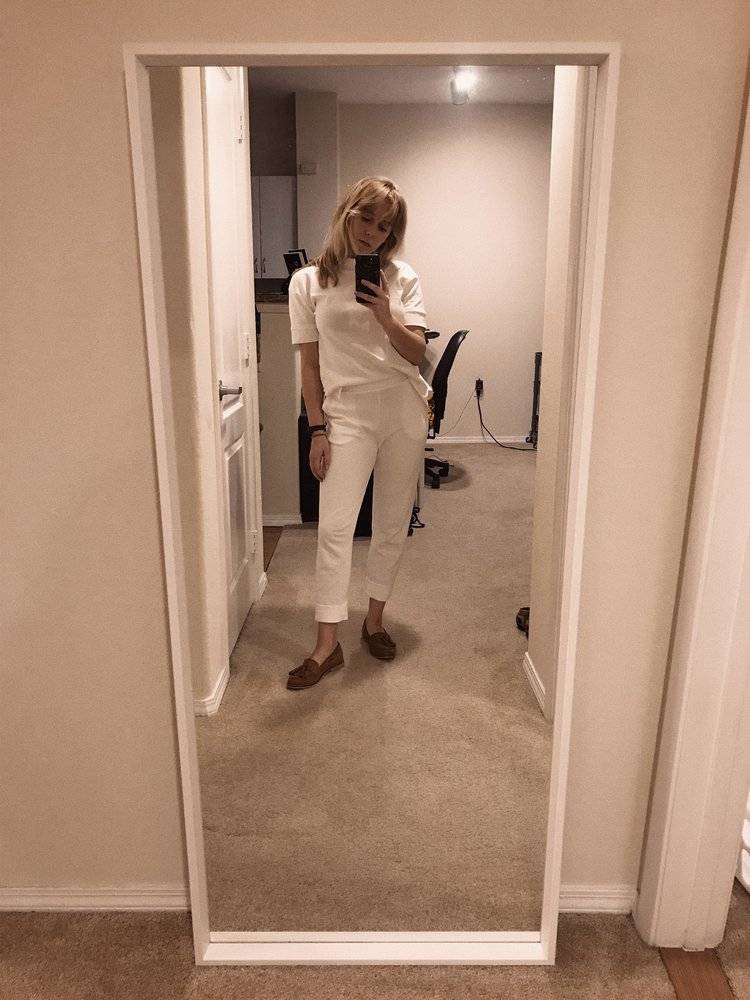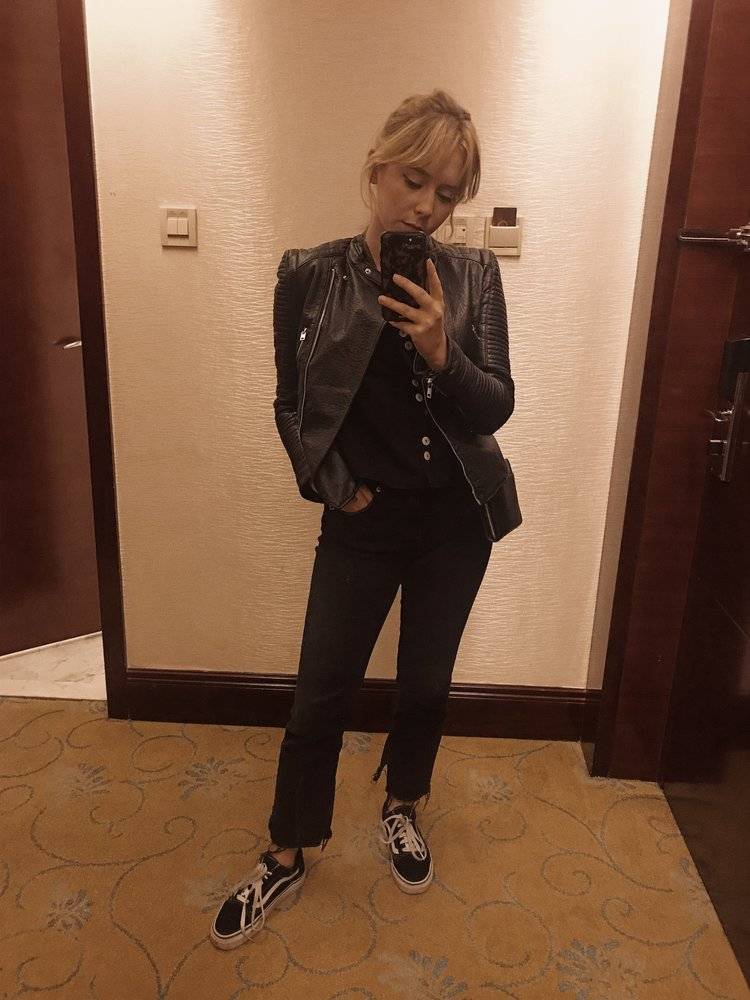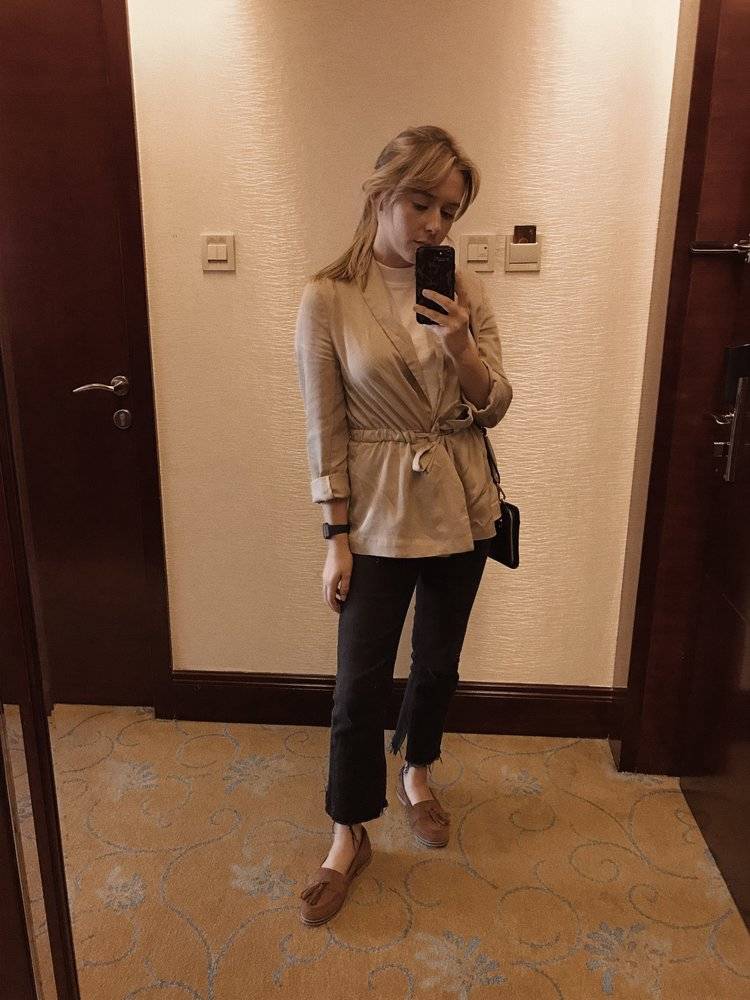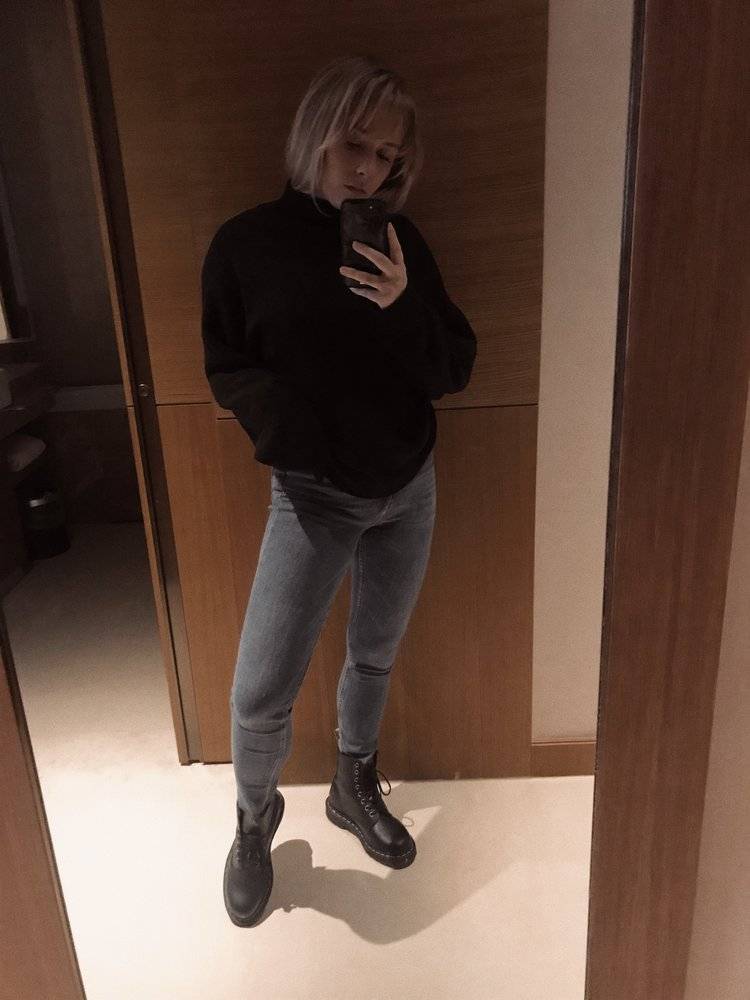 ---