At Home With Sam & Nikk: How We're Staying Creative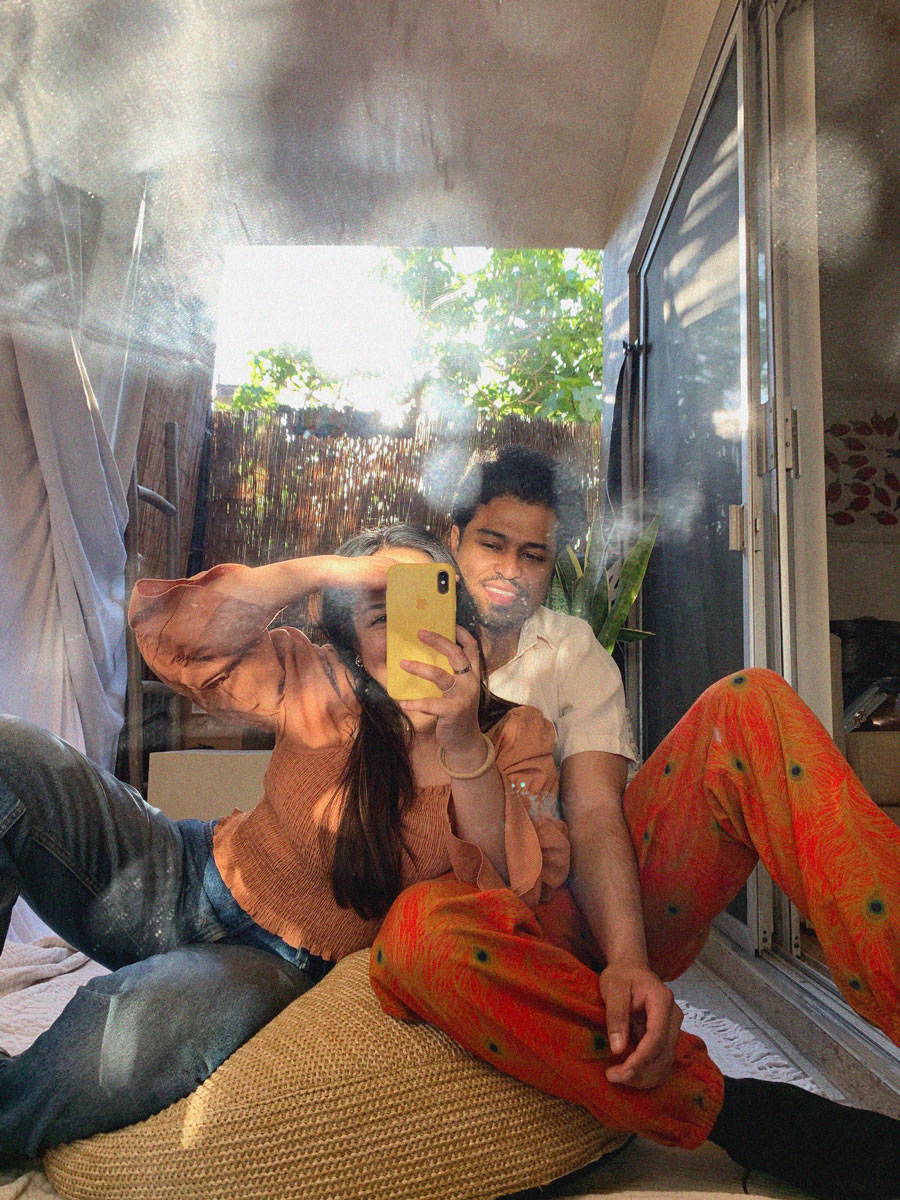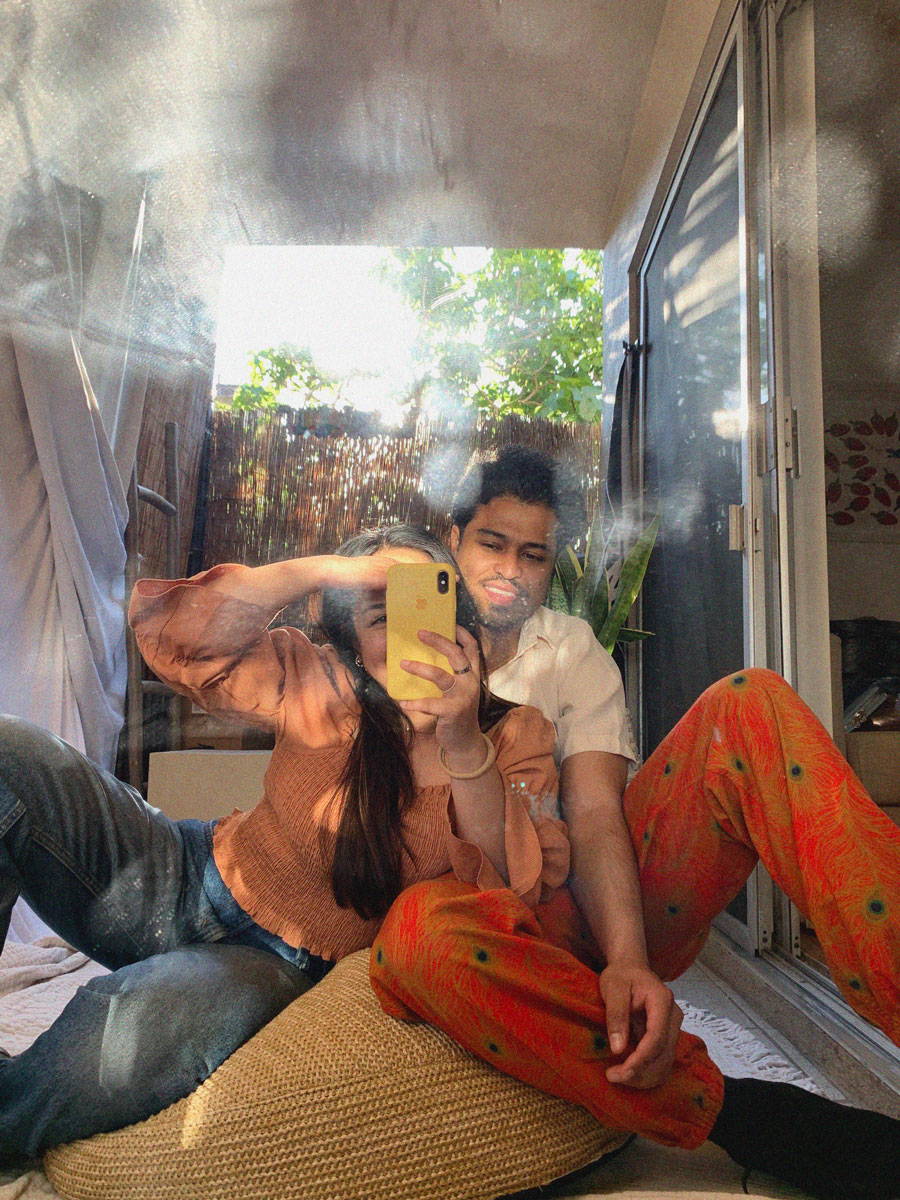 Sam Danan and Nikkolos Mohammed in her home studio.
What happens when one of your good friends, who shares the same creative passions, turns into something more? And, in the middle of a quarantine, how do you guys stay creative and connected together? I had the honor to interview one of my favorite creative couples, Sam Danan and Nikkolos Mohammed, on how they were able to turn a good friendship into a working/romantic relationship all in one. Sam, a content manager/graphic designer/founder of SMBDY2ME and overall creative in many facets, has welcomed this time to reconnect and find different ways to push her skills to create something more meaningful during this time. And in the midst of this pandemic, her counterpart, Nikkolos, co-founder of DREAMHAUS and a visual fine artist, has utilized this time to do the same and work together to build their relationship in a professional and personal space. So, how do they do it? Keep reading to find out what their secret is and how they've been able to stay creative together.
How did you two meet AND HOW LONG HAVE YOU BEEN TOGETHER?
NIKK:
We met at Otis College of Art & Design. I was working as a Lab Technician and Sam was beginning her first semester in the Graduate Graphic Design program. We have been friends for 7 years, and have been dating for 3 years.
WHAT ARE YOUR FAVORITE THINGS ABOUT ONE ANOTHER?
NIKK:
My favorite thing is her ability to adapt in social circumstances and making everyone feel considered.
SAM:
My favorite thing about Nikk is that his ideas are always bigger than himself. It's inspiring to constantly be around someone who's manifesting thoughts that eventually become reality in order to be shared and contributed to the world.
Favorite quarantine activity together:
SAM:
Having dinner in front of the T.V. I know it sounds simple but pre-quarantine, our schedules didn't allow for us to consistently have full-on meals and binge-watch everything. It's nice to end the evening together like this and then brainstorm on ideas for potential projects.
When people get into relationships, they never think about how they could work together other than in the relationship, so I need to know — How did the idea originate where the two of you would be working together on projects?
SAM:
This really happened organically. Nikk is the co-founder of the non-profit, DREAMHAUS and when we met, I was working with a non-profit and had experience in working with children and art. We worked on DREAMHAUS-related projects together and then over time, we assisted on each other's projects. Later, we were familiar with our creative strengths so when we would come up with projects or would be commissioned by clients, it was obvious our working relationship was a "thing". That's how we came up with the moniker, Novel Projects. It's a combination of our creative practices, ideals, and experiments that develop into physical novelties meant to last a lifetime.
What is one thing you learned about each other that you normally wouldn't have learned if you didn't work on these projects together?
NIKK:
I learned her frustrations and fears. Easily you can see what your partner does when things hit a wall — when ideas don't come to plan. It is rewarding to learn how to build your partner up and break through by solving problems together. It is always rewarding to make something together, but the intimate process is more rewarding.
SAM:
Nikk is comfortable with the use of silence and space — but his mind is always thinking. I've had to learn that the silence and space allows for thoughtful approaches and significant intention in every project he works on.
How do you separate work from home? Essentially, how do you make sure to dedicate time not related to working together?
NIKK:
Naturally, we are interested in what each other is working on and what we want to do. Everyday we share our ambitions but it is always essential to dedicate a time when we are talking about things to potentially collaborate together. It can be difficult to wear the hat as "boyfriend" and "collaborator". It is easier to communicate when we establish a time when we begin our conversation as collaborators.
SAM:
Even prior to the quarantine, this has always been a topic of conversation. We don't like to brand "date nights" but thankfully, the things we would do that would be considered a date or just being at home relaxing, always ends up with us talking about endeavors, projects, and passions. There's no hard separating line between our work life and home life because we've intertwined those ideals to become our lifestyle. But if there were ever times when we needed to obviously separate the two, we purposefully plan a time to talk about work-related things to be in that mindset.
Name your favorite cheerleader moment/thing your significant other does/has done for you.
NIKK:
Sam helped me with my first solo show during the early stages of us dating. She helped me organize and assist with things that I never even thought of. I have never experienced any level of care like that up to that point.
SAM:
Nikk helped me with my personal project, SMBDY2ME. From listening to me just talk about it, to hand printing the materials, to encouraging me when I've been doubtful — it's been my favorite moment thus far. This experience is reflective of how he cheers me on everyday, and everyday I feel very lucky.
HOW DO YOU MOTIVATE ONE ANOTHER?
NIKK:
I try to motivate Sam with encouragement on her personal endeavors. By nature, she is amazing in developing someone else's projects as a designer, or collaborate with me. She puts a lot of her solo projects on the back burner, so I try to encourage that as much as possible.
SAM:
The best ways I can support and motivate Nikk are two things: to listen and to encourage. I think these two things make room for me wanting to learn more, which allows Nikk to share more.
What is one mantra that has helped each of you while working together?
NIKK:
Clarity. Clearly communicate what we want our work to say. Also, what is "best". It is easy to feel like what you are collaborating on is more of the others' vision. Having trust on what is best is always the goal.
SAM:
"Figure out what's best." As creatives, we both have strong opinions about what we're making. Sometimes we have opposing perspectives but we've learned that we have to get out of our own egos and work with what's "best" for the project. That ultimately champions the fundamental intention of not only the project, but why we make things together in the first place.
With that being said, there's always some conflict. What's your best tip for resolving it when working together vs. in a relationship?
NIKK:
Communicate with trust. When you trust the person you are working with, you are critical about the way you are communicating to them. Don't hold back on ideas because you trust that your partner can assist you. Also, listening is always first. Share your ideas and concerns once you are asked. There is an art to "critique". The ability to allow your partner to solve their problem first is always the most ideal.
SAM:
We are both passionate people with strong ideas so yes, there will always be conflict. For anyone that knows us, they know SO much passion goes into the process. I think this works for both working together and being in a relationship: remember each other's strengths and personal process and lead with faith in one another. There are some things your partner is better at than you and vice versa. Once you let go of pride, your resolution is clear that you're on the same team.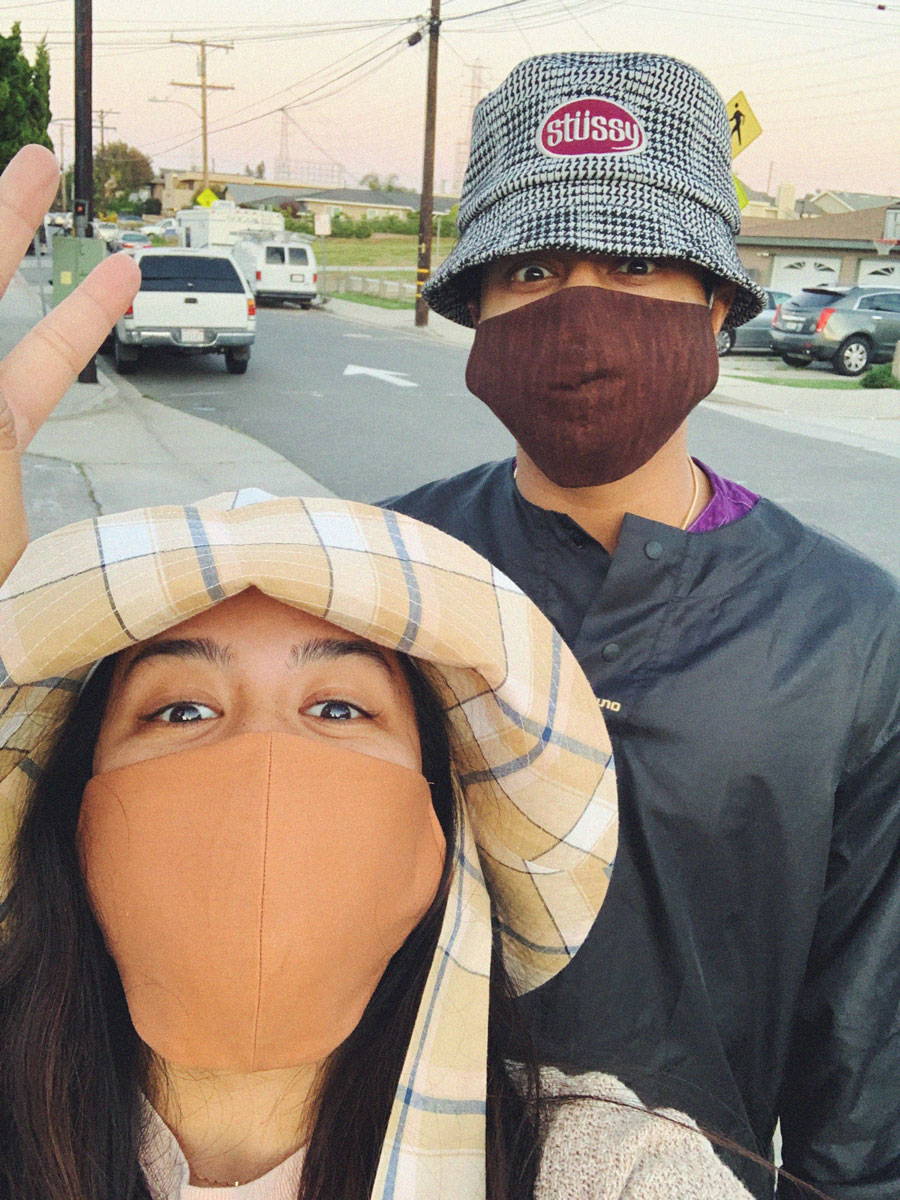 Sam Danan and Nikkolos Mohammed taking a walk around the neighborhood.
If you could plan a vacation after quarantine for each other, what would it be and why?
NIKK:
Somewhere with a completely different culture. Whether it is a road trip vacation or a foreign country, we try to discover crafts that are native to those areas. Through those crafts we make ourselves a souvenir.
SAM:
Domestic: I think we'd enjoy Hawaii because I feel like we'd benefit from soaking in a slower environment with a deep culture. International: Somewhere like Morocco because I can imagine us in a place with a totally different environment, culture, and way of living and us soaking it all in, while creating our own souvenirs from it.
Nikk & Sam's CALPAK Favorites